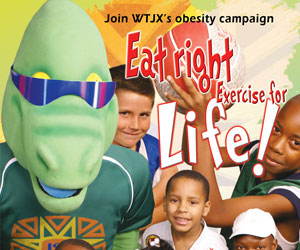 WTJX, based in St. Thomas, Virgin Islands, launched an Eat Right, Exercise for Life! Obesity Campaign to encourage all Virgin Islanders to incorporate healthy eating with daily exercise into their everyday routines. With this campaign, WTJX tried to increase awareness of problems caused by obesity.
Eat Right, Exercise for Life! consists of four main components leading towards a healthy and enjoyable life: the Pilot School Program, the Fitness Walk/Run Events, the SUBWAY® Kids Meal and the Marketing of the campaign.
In regards to the Pilot School Program, four public schools were selected to participate in the program and school nurses and physical education teachers were also asked to assist with student participation. Body Mass Index (BMI) testing, physical fitness module and nutrition education classes were incorporated into the program's intervention and design. A total of 140 students volunteered to participate in the several events the campaign organized. Due to their efforts, WTJX was able to organize several community walks and runs. These events were led by Langford, the campaign's green mascot, and WTJX CEO Osbert Potter, his "dad". Additionally, WTJX produced a cookbook full of nutritious recipes and also provides regular exercise classes for employees, their families and friends.
Findings indicate that there was a significant improvement in participants' behavioral habits after the start of the campaign. There were also improvements in participants' consumption of low-fat dairy products, healthy snacks, vegetables and breakfast. Langford, WTJX staff and the volunteers turned this campaign into a success, demonstrating that public broadcasting is not only healthy for the mind, but also for the body.
For more information, visit the Eat Right, Exercise for Life! Obesity Campaign website (check out the Body Mass Index Chart!).
You can watch a video clip of the Eat Right, Exercise for Life Obesity Campaign here: