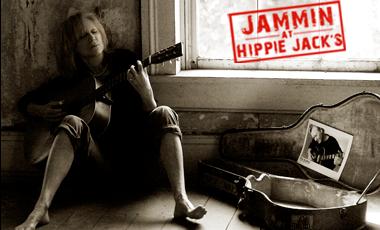 WCTE, based in Cookeville Tennessee, is proud to present the television show, Jammin at Hippie Jack, a local series, in collaboration with the Council of Americana Roots Music. Now in its eighth season, WCTE continues to partner with the Council as a means of protecting, preserving, and educating communities about the tradition and the indigenous art form of Americana music. Both organizations have a shared interest in documenting and archiving this musical genre that has many historical ties to Tennessee.
Roots music constitutes an important chapter in American culture. The artists of roots music crafted songs and ballads, hymns and protest songs. Their art was oral, passed on by word of mouth, or by custom and imitation. Today this musical genre is fast becoming a modernized version of its historical predecessor. It holds true to the very essence of historical roots music and the Jammin at Hippie Jack's series is able to capture a piece of it; a body of work that expresses a culture; that of empowerment, freedom in a social structure, preserving traditions, maintaining values and finding strategies for seeking justice all wrapped up in a song.
Past performers have included Dan Tyminski and Ed Snodderly, both of whom were contributors to the Coen Brothers film and soundtrack, Oh, Brother, Where Art Thou, which won Grammy Award Album of the Year in 2002, and the Carolina Chocolate Drops whose 2010 album, Genuine Negro Jig, which won the Grammy Award for Best Traditional Folk Album at the 53rd Annual Grammy Awards. Although past seasons have also included a list of similarly talented roots performers, such as Darrell Scott, Ray Wylie Hubbard and Goose Creek Symphony, two episodes in particular demonstrate the significant role that the series plays in preserving the musicians and their music: when the late singer/songwriter Tim Krekel was featured in the initial 2008 winter Hippie Jack concert series, it was unexpected that the episode would capture one of his final live performances. Krekel's concert simultaneously featured a collaboration with female roots vocalist Marshall Chapman, whose 1995 album, It's About Time… was recorded live at the Tennessee State Prison for Women and drew rave reviews from Time, USA Today and the Village Voice.
So how did it all begin? Jammin at Hippie Jack's evolved out of a documentary WCTE produced in 2006. The star was Jack Stoddart, a Fine Art Photographer whose life was spent living on the Tennessee plateau, documenting the vanishing culture of the Appalachia "hill people," who even in the 1970s and 80s were still working the land with horse and plough, living off the land and surviving in seclusion. After an influential week spent with documentary producer and WCTE's current President/CEO, Becky Magura, Stoddart decided to build a stage on the family farm for the purpose of presenting and taping live musical concerts in a genre that would preserve a part of their heritage. Over the years the series has grown and evolved. With Stoddart's philosophy that a music show requires a live audience, he and his family hold two music Festivals a year: one Memorial Day weekend, the other the last full weekend in September. New music is taped and the audience gladly takes part in the crafting of the series.
The Jammin at Hippie Jack's program has been a successful endeavor for WCTE, COARM, the musical artists, and the public. National Educational Telecommunications Association (NETA) distributes the program which currently airs on 162 stations in 30 states.
To learn more about WCTE, visit their website.
Check out Ray Wylie at Jammin at Hippie Jack's here: