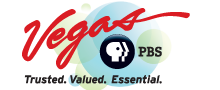 Vegas PBS is a national public media leader, making a huge impact in the critical areas of childhood obesity and family literacy. Vegas PBS provides extensive broadcast, digital and online services with 13 discrete broadcast and cable channels, video on demand, the state's largest Virtual High School, online workforce preparation, post graduate teacher courses and professional development offerings.
As a licensee of the Board of Trustees of the Clark County School District, Vegas PBS offers some of the most extensive education services in public media. The Vegas PBS Ready To Learn project is a major force for family literacy in the state, providing over 50,000 new curriculum correlated books, 524 workshops and online resources in just the past year.
Vegas PBS has also incorporated health related concepts along with literacy, originating nationally recognized and award winning curricular and technology resources targeting the areas of dental hygiene with Reading For Smiles and childhood obesity with Keeping Kids Fit (KKF).
Keeping Kids Fit, which was launched with Corporation for Public Broadcasting funding, has quickly become a recognized and vital resource locally for combating childhood obesity. Funding has grown significantly after the initial CPB allocation with support from a host of public, private and foundation sources.
The innovative project which primarily targets African American and Hispanic children and their families' uses a combination of technology, curricular and community resources to address the issue. As a primary community resource, community involvement has been a central factor in the project. Diverse leadership and involvement in the KKF Community Advisory Council features partnerships with such diverse organizations as: The Mexican Consulate, Telemundo, Urban Chamber of Commerce, Southern Nevada Health District, University of Nevada, Las Vegas, Clark County School District, Fremont Children's Clinic, Children's Heart Center, American Heart Association, along with other organizations, local business, medical and political representation.
The results have been impressive and KKF continues to enjoy significant results. Curricular kits for elementary and secondary schools have been developed and thousands have been distributed directly impacting tens of thousands of local children and their families. Broadcast programs have been seen across the nation. KKF online and educational resources have been recognized for excellence, used nationally and are featured on the PBS Parents website.
A KKF mobile application called Find 5 Fun Facts was recognized and featured by the United States Department of Agriculture Apps for Healthy Kids and First Lady Michelle Obama's project – Let's Move!.
KKF has received numerous national and local honors including: CPB My Source Education Innovation, Communitas, MarCom, W3, Communicator and Electronic Media awards.
Visit their website for local youth sports and arts activities, and nutrition and fitness workshops.