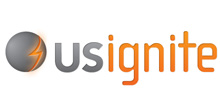 Utah Education Network (UEN) are proud members of US Ignite, tying the Utah community together with ultra-fast broadband networking. UEN is a statewide network for education, from K-12 to higher education, and one of the nation's leading public-serving broadband networks.
This partnership creates services for future broadband networks, running up to 100 times faster than the internet. For extending broadband connectivity to 130 community anchor institutions and developing advanced optical networking capabilities, UEN received a $13.6 million grant from Department of Commerce Broadband Technology Opportunities Program.
UEN are leaders in this advancing technology, expanding the possibilities and capabilities of bridging distant communities. Through US Ignite, Utah has access to advanced teaching and learning applications and helps bring national collaboration on infrastructure and education to the communities they serve.
US Ignite is a nonprofit initiative that promotes U.S. leadership in developing and installing applications and services for ultra-fast broadband and software-defined networks. It will eventually transform health care means, education, job capabilities, energy efficiency, public safety and advanced manufacturing. Initial sponsorship for US Ignite came from the White House Office of Science and Technology Policy (OSTP) and the National Science Foundation (NSF).
To learn more about UEN and other success stories, visit their website.