Sistema TV, public television for Rio Piedras, Puerto Rico, is the only PBS affiliate in the market. In collaboration with the Ana G. Méndez University System, Sistema TV produces local educational programs about arts and culture, university sports, health and the environment. It also produces and airs over 10 hours of weekly public affairs programming.
Health
Health is essential for all human beings. In alliance with the Puerto Ric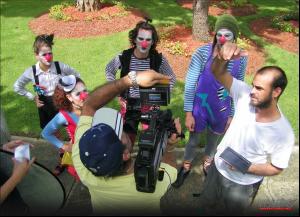 o Department of Health, Sistema TV produced, promoted and aired a campaign about the importance of vaccination. Seven vignettes were produced with varied age talents to appeal to kids, youngsters, adults and elderly population.
Themes of the vignettes:
1) Yawn, Sneeze.
2) Did you get your vaccination?
3) I don't get sick.
4) Lollipop.
Education
A third of Puerto Rico's population who are 25 years of age or more have not attained a high school degree; 17 percent of those are between 18 and 24 years of age (2009 U.S. Census Data). All research sources agree that it is particularly high at the intermediate level, with estimates as high as a 50 percent dropout rate. Sistema TV produced student drop out informative programs and vignettes in alliance with community organizations and the local Department of Education. Community based nonprofit organizations have stepped up to the challenge and developed alternative programs for school dropouts, through a focused and accelerated curriculum designed for their needs. Their achievements are generating public attention and helping students go back to school.
You can watch a video clip of Apoyando a nuestros estudiantes - Cápsulas Deserción here:
Outreach
Sistema TV convened 10 agencies and organizations that offer services to dropout students, to participate in two 30- minute live TV programs that were later re-broadcast. These productions included testimonies of dropout students who were able to reincorporate to the educational main stream. The participating organizations were able to disseminate their services, network with partner organizations and government agencies and exchange options available to prevent this problem. The general public was informed about different kinds of services available to these students and their families.
To complement the programs, Sistema TV produced and aired six public service announcements to make viewers aware of different agencies and alternatives that can help families deal with school desertion.
For more information, visit the Servicios Educativos website.

Public Safety
Resilience is the capacity to overcome and face natural disasters, prevent terrorist attacks or any emergency that might affect the public health. Sistema TV and the Puerto Rico Health Department produced a one-hour TV show to provide advice and valuable information to be used during natural emergencies.
You can watch a video clip of Puerto Rico se Prepara here: