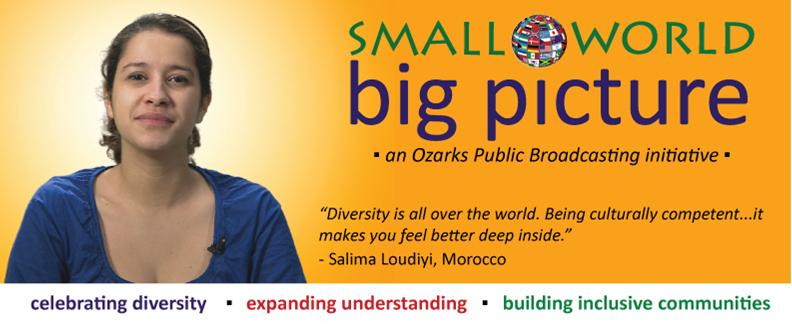 Ozarks Public Television, public television for Springfield, Missouri, launched an initiative called Small World ▪ Big Picture. It's a multi-faceted, multi-platform initiative focusing on the diversity of community and encouraging viewers to look closely at global issues and their connection to the local community.
To encourage a greater understanding of these global issues, Small World ▪ Big Picture includes some fantastic video profiles of local residents that represent the ethnic diversity of community. On these videos, which air on Ozark Public Television, we meet some fascinating Ozarks residents who hail from all over the globe as they explore personal ties to international issues and news events.
From a United Arab Emirates' donation to a Joplin Hospital to a local chocolate factory's partnership in the Philippines, Ozarks Public Television has a long history of covering issues and events that speak to the diverse nature of their community and the interconnectivity of our world. Given these facts, the Small World-Big Picture initiative contributes to the core mission of Ozarks Public Television - to encourage the exploration of ideas and their application to citizenship.
For more information, visit the Small World-Big Picture website.
You can watch a video clip of one of the Small World-Big Picture video profiles here: