NJTV, based in Trenton, New Jersey, celebrated its one-year anniversary on July 1, 2012. They are proud to be New Jersey's new Public Television Network serving the Garden State. In honor of their anniversary, the station will have a half-hour special, entitled NJTV: One Year Anniversary, that will retrace the evolution of the network, from its beginning on July 1, 2011 through the present, along with what lies ahead. NJTV: One Year Anniversary premieres Wednesday, 7/18 at 10:30 p.m.
"NJTV has come a long way in a very short time," said General Manager John Servidio. "In only a year, we launched a multi-platform network, adding more Jersey-centric programs to a roster of state favorites, including our news program NJ Today, creating a robust website with more online programming and educational resources than ever before, and social media outposts that keep New Jerseyans informed and engaged. And it's just the beginning - we are determined to grow and do more."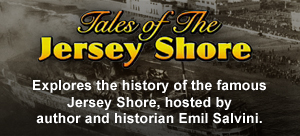 Tales of the Jersey Shore is a new program hosted by historian and author Emil Salvini. The series premiered in June 2012, with the first episode "The SS Morro Castle, New Jersey's Titanic", which explored one of the United States worst maritime disasters and its impactful effects on New Jersey. Before now, Tales of the Jersey Shore was just a popular interstitial series. These new full length one-hour programs offer a new in-depth version of the stories and the rich history of the land which the community now resides.
The mystery in the story of "The SS Morro Castle, New Jersey's Titanic" remains just as intriguing today as the day it happened. The burning boat, the mysterious death of the captain, the strange behavior of the crew and the concerning amount of empty spaces on lifeboats all build up the mystery that happened nearly 80 years ago.
NJTV has come up with clever ways to really get the community involved. NJDocs shows homemade, student produced documentaries that become a part of NJTV's program line-up. They appear on the first Monday of every month. The documentaries are then viewable online.
Another example of an impressive program from NJTV is Driving Jersey, which is a revelation of all things misunderstood and misrepresented. The show seems like an experience that viewers get to sit in on and join the creators, Steve Rogers and Ryan Bott, on their journey with people, places, events and experiences, throughout the Garden State.
To learn more about NJTV, visit their website.