The Nine Network of Public Media, serving the St. Louis region, offers digital storytelling training to individuals and organizations to help them tell and share their stories of impact. Through the Nine Academy, the Nine Network's state-of-the art production facility in downtown St. Louis, participants will develop 21st century communication skills and feel empowered to tell important stories about their communities. Initially funded through a $2 million grant from the State of Missouri Film Bureau, Nine Academy classes are intended to build capacity and increase pride in St. Louis communities; connect individuals and organizations to each other and to the larger St. Louis region; and empower individuals to get involved in their community and take action on issues that are important to them. Everyone has a story, and these stories inform the greater community.
Nine Academy participants are trained to use a small, digital handheld camera and video editing software to create a short video telling a story about community impact. Whether attending Nine Academy as an individual or together with an organization, students commit to completing a 20 to 30 hour curriculum that includes learning how to map out a story, as well as training on video editing software. At the conclusion of the course, students walk away with a powerful three-to-five minute video story that's theirs to keep. Many post their story to YouTube and other social media sites, screen the story for employees, clients, board members and potential donors. In addition, videos created by participants will be distributed on Nine's many online distribution platforms.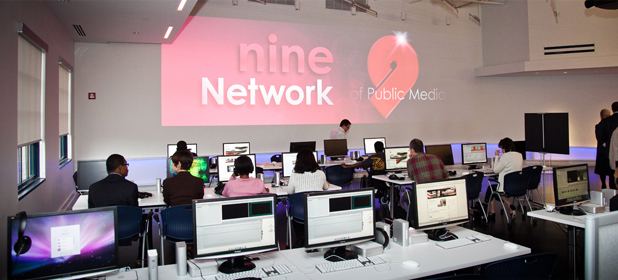 Ed Reggi, Nine Academy project manager, says the first few hours at the Academy are often the most important. "We don't even touch any technology that first day of class. We focus on the story. What's the message they want to deliver? What change do they hope to inspire? What's the voice?" he says.
Nine Academy strives to let the community reflect back what's most important to them. Reggi adds, "What we're really doing is allowing the community to be the microscope, rather than being put under one."
If you are part of a nonprofit organization interested in taking a digital storytelling class, your organization can partner with The Nine Network of Public Media. The ideal participants will be from organizations that believe that continued use of digital storytelling will improve their overall effectiveness. These individuals can be staff, volunteers, board members or youth (high school age or older). Ten Toe Express, Catholic Charities and Grand Center Arts Academy are just a few of the organizations that have produced digital stories at Nine Academy.
For more information, visit the Nine Academy website.
You can watch a video clip of the Nine Academy here: