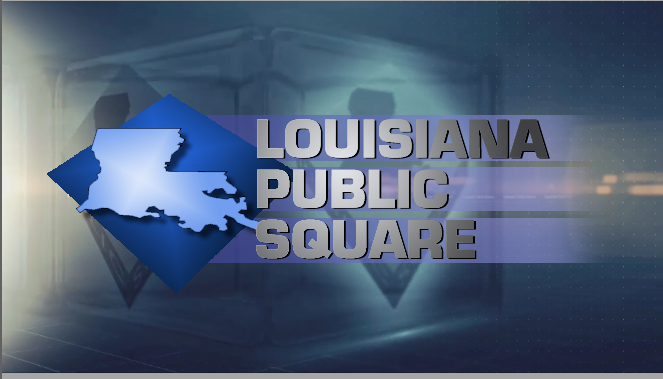 Louisiana Public Broadcasting's (LPB) monthly news and public affairs program, Louisiana Public Square (LPS), gives citizens the valuable opportunity to voice their opinions and concerns in-person with local experts and key decision makers. Based on the deliberative democracy concept of the MacNeil/Lehrer Productions' By The People initiative, Louisiana Public Square encourages civic engagement and civil discourse for both discussion participants and viewers that is vital to the community's involvement in the state's decision-making processes. LPB hopes to build upon Louisiana's strong roots in democracy through the powerful topics and discussions on the show.
Several discussion participants join experts who serve as moderators in the LPB television studio for each episode. The give-and-take dynamic of Louisiana Public Square is important to citizens of Louisiana because it enables people from all backgrounds with different experiences to openly express their points of view. At the same time, discussion participants absorb these points of view and may even change their stance on a topic based on the opinion of another participant.
The show often features topics ranging across education and public safety-related issues. For instance, LPS's April 2016 program highlighted the opiate addiction in Louisiana in a show titled "Opiates & the Bayou State." Whereas the October 2015 episode was on a special town hall meeting held at the New Orleans Center for the Creative Arts theater and focused on the early childhood education changes in the state, and the challenges and opportunities they presented.
2017 episodes include "Reforming Criminal Justice" and "Black and Blue," an encore showing that tackles the ongoing debate on what can be done to improve trust among the police and the public they serve.
In addition to informing LPB's statewide audience about issues such as these and providing them with an open forum to discuss them in-depth, Louisiana Public Square also has a strong partnership with Louisiana's Legislative Youth Advisory Council (LYAC). The show has collaborated with the LYAC for over a decade and tries to include two or more LYAC members in the audience each month. According to the show's producer, Kevin Gautreaux, "Their participation on LPS gives them the opportunity to voice the concerns of their age group on the month's issues, as well as pose questions to our expert panelists. They also have the opportunity after the program recording to interact one-on-one with these experts who often include legislators and key government officials."
Louisiana Public Square plays an integral role in connecting citizens with insightful discussions that enlighten their own opinions and informs local experts about the community's concerns. The series has won a number of awards including a Silver Telly for the episode "Symbol or Statement? History in Public Spaces" and a Bronze Telly for "Gay in Louisiana."
View LPB's award-winning Louisiana Public Square episode, "Symbol or Statement? History in Public Spaces," below.