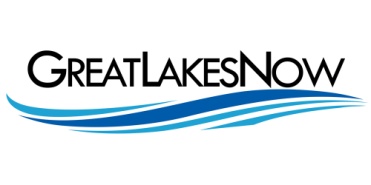 Detroit Public Television's groundbreaking initiative Great Lakes Now, provides unprecedented access to the largest gathering of scientists, political voices, educators, environmentalists and interested groups ever assembled to discuss the future of the Great Lakes, the United States' largest source of fresh water.
Detroit Public Television partnered with multiple public stations and utilized television, radio, the internet and on-the-ground resources to bring together an extraordinary array of experts and stakeholders in the future of the Great Lakes. "When we saw research showing 97 percent of people in the Great Lakes Basin believe the Great Lakes are important to their lives, but only four percent say they have a personal responsibility to protect the Great Lakes, we saw a disconnect we could help bridge through the power of media," said Rich Homberg, president and general manager of Detroit Public Television.
Great Lakes Week was launched in October 2011 and for the first time in history the four leading government and private organizations overseeing management of the Great Lakes met in Detroit to discuss future policy. Detroit Public Television provided unprecedented public access to those discussions, through local, national and international partnerships for TV, radio and web content. All content was offered to all partners live and on demand for free. Great Lakes Now became a success story, helping more people connect the issues with their roles in solving them, and offering an opportunity to commit to engaging local stakeholders.
Great Lakes Now continues hosting the meetings and conferences of a diverse group of Great Lakes stakeholders during The Great Lakes Week. Close to 700 activists, government representatives, industry leaders, tribal members, environmental consultants, sports enthusiasts and academic institutions will be attracted under one roof to network and collaborate on issues of critical urgency facing the Great Lakes and to re-affirm a shared commitment to restoring the health of the Lakes.
Great Lakes Now truly shows how local public television stations have moved beyond traditional broadcast to engage their communities in new and groundbreaking ways.
Watch Dr. Meredith Lilly discuss the challenges and opportunities of the changing landscape of North American and Global Trade at the Great Lakes Economic Forum.
For more information, visit the Great Lakes Now website and Facebook page.