Remarks as prepared for delivery on
Thursday, January 19, 2012.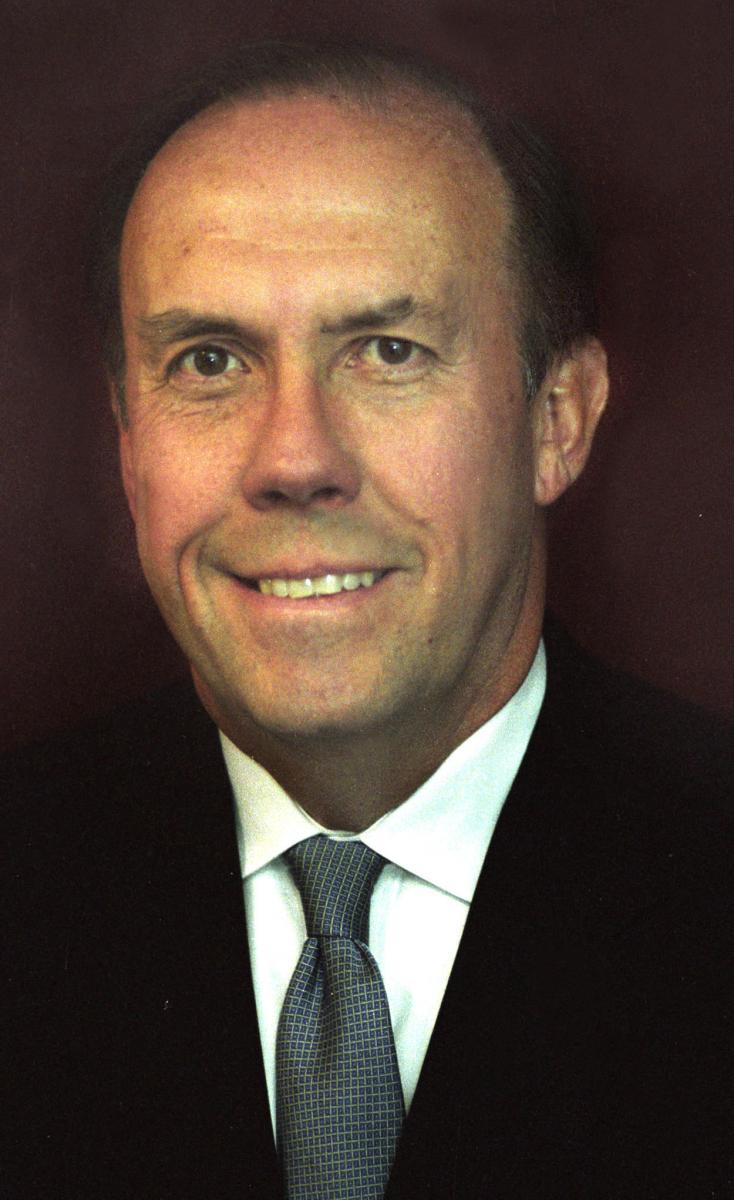 Thank you, Paul, for that very nice introduction. It's good to be home.
As Paul has noted, I've been quite fortunate to have been involved in the worlds of politics and media at some pretty high levels since leaving Chattanooga more than 40 years ago.
But I have never forgotten that it all started here, in 1966, answering phones in the sports department of the Chattanooga News-Free Press on Saturday nights.
Actually, it started about ten years before that, down the road in South Pittsburg, where I made my broadcast debut at the grand old age of six.
My father, who was a minister as well as an educator, had a Sunday morning radio program on WEPG in South Pittsburg. It was a 15-minute sermon preceded by a Bible verse which my brother Mike or I would read on the air.
Mike was older than I, so he got all the complicated verses. I got "Jesus wept," "Pray without ceasing" and other such economical scriptures.
But it was a start, and I'll never forget the thrill of going into that studio, sitting down in front of a microphone, and speaking to the … dozens of people listening in on the radio.
My brother and I were so taken with broadcasting that we set up our own makeshift studio in a little room behind our garage at our house in Kimball. A floor lamp was transformed into a camera with a cardboard box where the lampshade used to be, three creatively-placed paper-towel rolls as our camera lenses, and the nozzle from a garden house as our microphone.
To report the news, we got from WEPG some wire copy reporting on the attempt by Great Britain and France to seize the Suez Canal and President Eisenhower's insistence that his former war-time allies back down from this attempted seizure.
As this was the only news story we had, Mike and I reported on the Suez Canal several hundred times during 1956, 1957 and 1958 – long after the crisis had been resolved and our network competitors had lost interest in the story.
But we were hooked – both by the lure of broadcasting and by our fascination with the world far beyond Kimball.
My parents let me stay home from school on the day President Kennedy was inaugurated in 1961 to watch the proceedings on television, and I resolved on that very day that I would one day live in the Washington world I was watching on TV.
After moving from Kimball to Chattanooga later that year, I was on my way. While still a student at Red Bank High School, I got that job answering phones at the Free Press.
While in college at the University of Tennessee, I became the Knoxville correspondent for the old Chattanooga Post, the afternoon companion to the Chattanooga Times.
And in the summer after my sophomore year at UT – as grizzled a journalist as I could be at 19 – I was offered the best beat on the paper: covering City Hall and politics.
That remarkable opportunity led me to meet Senator Howard Baker, who brought me to Washington soon thereafter and who has been my mentor and friend for more than 40 years.
So I owe everything to Tennessee, and I welcome the opportunity to come home and say "thank you."
The media world has changed profoundly – for both good and ill -- from those early days at WEPG and the Chattanooga newspapers.
The choices available to media consumers have exploded since then – not only with the 500-channel universe of cable television but with the near-infinite information capacity of the Internet and the still newer generation of social and personal media.
While the travails of the newspaper industry are well known to an audience like this one, the journalism that lies at its heart has never been more in demand.
The Washington Post once boasted of a million subscribers to its Sunday edition. Today washingtonpost.com reaches nearly 20 million people a day, not only in Washington but across the nation and around the world.
The thirst for knowledge, the appetite for facts people can rely on, has literally exploded with broadband and mobile and social technology, and many more people know many more things today than ever before.
So pervasive are these new communications forces, they have become the most powerful adversary of tyrants throughout the world.
It is literally impossible to censor information now in ways that were routine just thirty years ago.
As best he could, President Reagan used the Voice of America and USIA television programming to broadcast the advantages of freedom to millions of people living behind the Iron Curtain of Communism in the 1980s.
As an old Hollywood hand, the President also knew that a still more powerful weapon was the entertainment programming – and even the consumer advertising – that was beamed into those countries in the early days of satellite television.
Some of these signals got through, and they helped create a revolution in aspirations and expectations among those locked in the grey and menacing world of repression in eastern and central Europe.
But those oppressive regimes had the capability to jam these signals with relative ease in the 1980s, and they did, and though the seeds of destruction of the Communist empire were sown by men like Reagan and women like Margaret Thatcher, they fell on hard ground that took years to harvest.
Today's media are unstoppable, and their power to bring change is immediate.
A grocer sets himself on fire in Tunisia, and the horrifying image on YouTube is enough to topple a thuggish government.
A crowd of protesters gathers in Tahrir Square in Cairo, and Facebook builds its audience instantaneously into the millions, and a tyrant for decades falls in days.
The power of people, unleashed by this Arab Spring, is nothing short of astonishing, and modern media have been central to these brave people's success.
Al Qaeda thought it could defeat us with the Internet, but the Internet has instead empowered innumerable hosts of people in the Middle East who prefer the 21st century to the 14th and are willing to risk everything for the freedom we take for granted here in the United States.
And what are we doing with that freedom? How do all these media marvels advance our civilization?
We are gridlocked in Washington and seem fixated on the Kardashian culture of mind-numbing celebrity everywhere else.
Two men who are trying very hard to get us past gridlock are Tennessee's own Lamar Alexander and Chattanooga's own Bob Corker in the United States Senate.
Tennessee has sent some fine statesmen to Washington over the past two centuries, but we've never had two better ones serving simultaneously thank Senators Alexander and Corker.
On the media side of the freedom equation, the freedom of expression we enjoy has had some very curious effects. Despite the ubiquity of three cable news networks, real news – as opposed to high-decibel opinion and tiresome talking points – seems hard to find. And thoughtful commentary from diverse people searching for real solutions is rarer still.
The Discovery network, founded to run PBS-style documentaries 24 hours a day, now favors American Chopper and Hogs Gone Wild.
The History Channel, which in its early days told you everything you ever wanted to know – and more -- about World War II, now promotes Pawn Stars, Cajun Pawn Stars, American Pickers, Ax Men and Ice Road Truckers instead.
The Arts & Entertainment Television Network, conceived as a showplace for the performing arts, now has nothing to do with the arts at all. A&E gives us Hoarders, Storage Wars and Dog the Bounty Hunter, but it does not give us art.
I'm not complaining. In my days as a television producer, I produced programs for several cable networks, as well as for PBS, and I applaud their success.
The Washington Post Company, where I worked for 20 years, had both a commercial broadcasting and a cable television division, and I was proud of them both.
I don't want to be a scold, or a purist, or an elitist. I'm that kid from Kimball who never lost his fascination with television and its capacity both to inform and to entertain.
But somewhere in this vast media universe there has to be a place for broadcasters who treat their audiences as citizens rather than as mere consumers.
Somewhere there must be a place for real history, real art, real news, real drama, real science, real public affairs programming that makes us think, teaches us useful things, and inspires us to be a better, more sophisticated, more civilized, more successful people.
Somewhere the chase for audience ratings and advertising dollars has to end, and the search for a medium dedicated to a well-educated, well-informed, cultured and civil society capable of the duties of self-government must begin.
That medium is public broadcasting – the medium of Ken Burns and American Experience, Great Performances and Austin City Limits, NOVA and Nature, the PBS NewsHour and All Things Considered, Washington Week and A Prairie Home Companion, Masterpiece and Sesame Street, classical and bluegrass and jazz, a window on the world and a home and haven for the American spirit.
And it's not just the programs that appear on the PBS national schedule. The great untold story of public broadcasting is what goes on at the local level, here in Chattanooga and in communities large and small across the country.
We are still what President Eisenhower called on us to be in the aftermath of Sputnik: educational television. But today's technology, and the emergence of common core educational standards embraced by virtually every State, give us the opportunity to be more effective educators than we have ever been before.
Through our PBS LearningMedia initiative launched in September, public television stations in 40 States – including Tennessee – are poised to be deeply embedded in the teaching and learning experience in K-12 classrooms serving millions of American students.
And these are not just old film clips from TV shows.
PBS and WGBH in Boston have developed 17,000 standards-based, curriculum-aligned, digital learning objects to teach kids about everything from algebra to zoology, using the same media with which they live their lives: Video games, smart phones, iPads and more.
And it's not just PBS programming on which our learning media are based. As part of the learning registry created by the U.S. Department of Education, we're also using content from the Library of Congress, the National Archives, NASA and other sources of extraordinary educational material.
We have created lesson plans and other curriculum aids to help teachers and students make the most of these remarkable tools, and we're creating more of them all the time.
We have launched homegrown learning platforms like Maryland Public Television's Thinkport online system, which the state superintendent of schools has credited with helping raise Maryland's students to the top of the student achievement rankings nationwide.
Next door to us in Alabama, public television operates virtual high schools that provide remediation for students who need it and enrichment for students who want more.
North of us in Kentucky, Kentucky Educational Television has created a GED program that has been adopted in dozens of States – including Tennessee – and is giving thousands of people a second chance at a high school diploma.
And right here in Tennessee, public television stations are a powerful resource for teacher training, family literacy and many other important educational services.
Chattanooga's own WTCI-TV, under the great leadership of Paul Grove, is managing a statewide Race to the Top initiative by public television and the Tennessee department of education to bring PBS LearningMedia – and hundreds of homegrown learning tools – into every Tennessee classroom.
That's just the beginning of what WTCI does for this community – partnering with dozens of organizations to take on issues ranging from gangs to childhood obesity, preserving your rich local history, being the C-SPAN of the Tennessee legislature and the Chattanooga City Council.
No wonder WTCI-TV was named the 2010 nonprofit of the year by the Chattanooga area Chamber of Commerce.
My goal is to make every public television station in America as community-centered as WTCI.
And we are well on the way.
We are the C-SPAN of Nebraska, the agricultural authority in Iowa, the emergency response network in Wisconsin, the biggest job training provider in Nevada, and on and on.
We provide essential services like these without regard for their commercial potential.
We serve very young and very old people, not just the 18-49 year olds advertisers crave.
We bring the wonders of the world – Broadway shows, the finest museums, the best professors and much more – to the most remote places in our country.
We serve everyone, everywhere, every day, for free.
We seek public funding for public broadcasting because we are in the business of public service, just like the public libraries, public schools and public highways.
This position is not without controversy in Washington, where many Members of Congress resolved last year to do away with such funding in the interest of reducing the federal budget deficit.
We were able to keep these funds flowing – not once, but twice last year – because we were able to convince enough lawmakers on both sides of the aisle and both sides of the Hill that our public service mission is real and deserving of their support.
We also convinced them that public broadcasting in the United States is a tremendous bargain, particularly when compared with the investments other countries make in our industry.
While Japan invests $63 per citizen per year in public broadcasting, and Great Britain $84 per citizen, here in the United States we invest a grand total of $1.35 per citizen per year for a system that does everything I've described and more.
And for every dollar we receive from the federal government – one hundredth of one percent of the federal budget – we generate $6 from private donations from foundations, corporations and "viewers like you."
Public broadcasting is the most successful public-private partnership in the history of this country, and public opinion surveys have routinely shown that the American people consider public broadcasting the second best investment of federal funds, after national defense.
One hundred seventy million Americans regularly rely on public broadcasting -- on television, on the radio, online, in the classroom – because we provide them something they need that no one else in the media world provides:
A place to think. A place to learn. A place to grow. A tool for the citizen. A refuge from the Kardashians.
Let me close with a story about Ken Burns and Ronald Reagan.
In the late 1980s, Ken Burns was a talented young film-maker, a producer of worthy documentaries on the Brooklyn Bridge, the Statue of Liberty, the Shakers, Huey Long and such.
Now he was mounting a monumental production: a 13-hour history of the Civil War.
But because he was Ken Burns, and not yet KEN BURNS, he found it difficult to raise the millions of dollars he needed for his masterpiece. This was long before General Motors and Bank of America and others lined up to support his productions.
I was, at the time, the chairman of the public programs committee of the National Endowment for the Humanities. Lynne Cheney, wife of Dick Cheney, was chairman of the Endowment.
Lynne and I decided to award Ken the largest grant in the Endowment's history to finish his epic work, and Lynne arranged for Ken to meet President Reagan, the first President he'd ever met.
While Ken was describing his film, the President stopped him short.
He said, "You know, Ken, when I was a little boy growing up in Dixon, Illinois, we used to have a parade on the Fourth of July, and veterans of the Civil War would march in that parade.
"I'll never forget the connection to history that I felt when those old soldiers marched down the street, and I've worried for most of my life that we're losing our national memory.
"I want to thank you for preserving it."
And with that, Ken Burns's life was changed forever. He'd come into the White House as a promising young film maker, and he left it as the preserver of the national memory – a role he has consciously and conscientiously played in all the documentaries he's produced since The Civil War.
And the President himself changed his mind about public broadcasting. He came into office promising to defund it, and he wound up increasing our funding by 31 percent.
Ken has often said that he couldn't exist without public television. When he has a hit with us, the commercial networks always come calling. But when he tells them his next project is a 10-hour history of the Vietnam War, and they say they can manage an hour, the conversation is over.
That's what we do in public broadcasting. We educate. We make good citizens. We preserve the national memory. We take the time and trouble to take serious things seriously. We remind you every day what's special about America and Americans.
Somebody in the media world needs to do that.
We're proud to it – proud to be media that matter, making the most of the creativity that makes America so special and the freedom of expression earned and defended at such great price.
I very much appreciate the opportunity you've given me to talk about all this today.
And while a long life has taken me a long way from Chattanooga, I am proud to have taken the values I learned here everywhere in the world with me, and I am honored to be in your company today.
###