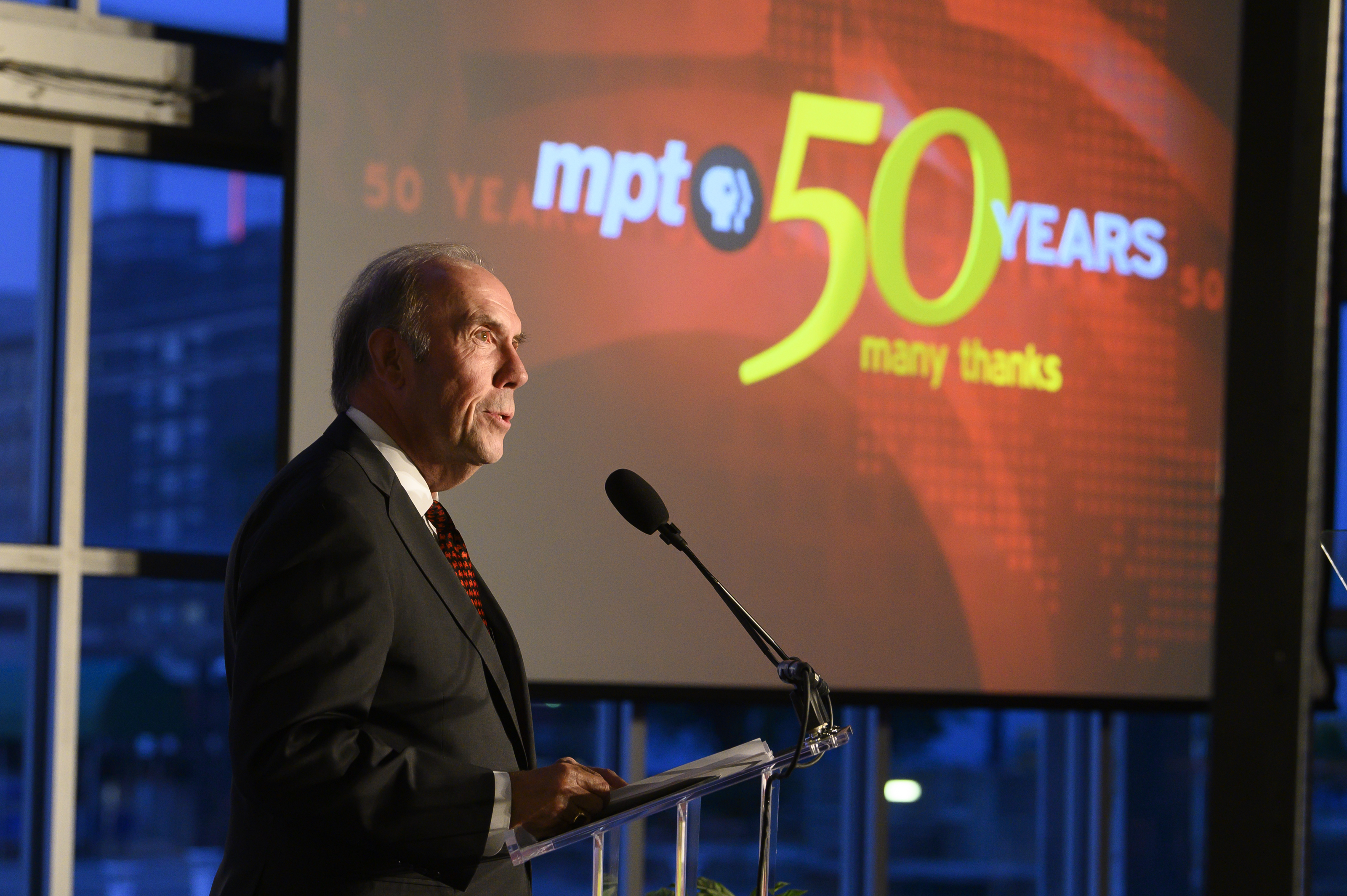 Remarks as prepared for delivery on Thursday, June 27, 2019.
We've reached the point in our program where everything's been said but not everybody's said it. So let me be brief.
There's a saying in our business that "if you've seen one public television station, you've seen one public television station."
This adage reflects the intensely local nature of public television – essentially the last locally owned, locally controlled, locally focused media in America.
The interests and services of public television are as varied as the 50 States, the 218 television markets, and the 100,000 places with names in the glorious patchwork of our country.
One hundred seventy public television licensees operating 350 stations serving close to 97 percent of the American people are the sturdy thread that stitches our nation together from sea to shining sea.
Every day these stations are chronicling, celebrating and preserving the diversity of life, culture, experience, and opinion among 330 million unique Americans.
Virtually alone among media institutions, we specialize in what our friends in New York and Los Angeles call "fly-over America" but we call the heartland of America.
We're interested in farms, small towns, the Rust Belt, the Sun Belt, the Great Plains, the Native American reservations, the watermen on the Chesapeake, the wonderful people who, in Lyndon Johnson's words, "know when you're sick and care when you die."
We're helping our fellow Americans face the opioids crisis. We're honoring our neighbors who served in Vietnam. We're bringing communities together to cope with natural disaster and man-made terror.
We're hosting candidate debates at every level of the election ballot, serving as the "C-SPAN" of state governments, giving all our citizens the information they need to guide the world's most important democracy.
This is civic leadership of the highest order, and if that were all public television did, it would be a gift of incalculable value to our country.
But this affectionate, respectful, thoughtful, comprehensive, challenging, civil portrait of hometown America is only the beginning of the mission of public service which public television stations pursue every day, everywhere.
We teach the 52 percent of America's children who have no other access to pre-school education, getting them ready to learn in school and succeed in life.
We help close the achievement gap between children from poor families and their more affluent peers.
We help two million teachers bring history, and science, and the arts to life for 40 million K-12 students through the curriculum-aligned, interactive resources of PBS Learning Media.
Through our partnership with the Corporation for Public Broadcasting's American Graduate initiative, we've helped reduce the high school drop-out rate to its lowest level in history.
And we are increasingly involved in local job training and workforce development, combining our media production and teaching skills to create highly effective courses that lead to steady, rewarding employment for more than 90 percent of our trainees.
In addition to these missions of civic leadership and education, public television stations are increasingly committed to a third pillar of essential public service: public safety.
What began decades ago as a secure, ubiquitous communications channel enabling the President of the United States to speak directly to the American people in times of national emergency has evolved into a broad commitment by local public television stations to safeguard the lives and property of their neighbors at the community level.
Using a portion of our broadcast spectrum that we don't need to send television programs to your home, our stations have developed a public safety datacasting capability that conveys critical information – video, audio, graphics, and text – to squad cars, fire engines, ambulances, rescue boats and other first responders, securely, reliably and instantaneously.
We've helped the State of California reduce the standard earthquake warning time from 30 seconds to less than three seconds.
We're building an emergency communications network with the State of Tennessee to help track the path of wildfires.
We've equipped first responders in rural Indiana with video and building blueprints to deal effectively with school shooting scenarios.
We've sent life-saving information 35 miles across the Atlantic Ocean – much farther than even the most powerful cellular network can go.
And coming soon is a revolutionary new technology – combining broadcast and broadband technology for the first time – that will make this datacasting capability even more powerful, not only for public safety purposes but for:
Distance learning;
Telemedicine;
Precision agriculture;
Connected cars;
Smart cities;
And more.
These are the missions – and this is the exciting future – of public television.
No one has embraced these missions and this future more fully than Maryland Public Television.
We've had a wonderful walk down Memory Lane this evening, celebrating 50 remarkable years of MPT's service to the people of this State:

Rick Breitenfeld
Stories of Maryland
Auction-on-the-Air
Maryland Instructional Technology
Maryland College of the Air
Miss Jean and Hodgepodge Lodge
Wall Street Week with Louis Rukeyser
Aviation and Marine Weather
Consumer Survival Kit
The Opening of Harborplace, with Howard K. Smith
You Can Afford College, with Oprah Winfrey
Motor Week, with John Davis
Who Will Save The Bay, with Walter Cronkite
Maryland Playwrights' Theater
The Chemical People, with Nancy Reagan
Steve Kimatian
Crabs
On Stage at Wolf Trap
National Geographic Bee, with Alex Trebek
Raymond Ho
Great Performances
Outdoors Maryland
John Potthast
Warren Park
Bob Callahan
Bob the Vid Tech
To the Contrary, with Bonnie Erbe
Kratts' Creatures
Dwight Phillips
George Beneman
MPT On Location
Rob Shuman
ArtWorks
HealthWeek
Chesapeake Bay Week
Zvi Shoubin
Michael Styer
Direct Connection, with Jeff Salkin
Public Square
State Circle
Thinkport
Gail Porter Long
Eddie and Irene Kaplan
Chesapeake Collectibles
Star-Spangled Sailabration
Larry Unger
MPT Salutes Vietnam Veterans
Maryland Farm and Harvest
Senate Bill 1024
John Wolf
Ruth Marder
Rhea Feikin
We could go on all night -- and I will if you will -- but it's amazing how a simple recitation of names can evoke such an extraordinary outpouring of affection and appreciation for the work MPT has done since its founding in 1969.
And it's not just programs on the air.
MPT has active partnerships with the State Departments of Education, Environment, Health and Disabilities that improve the lives of Marylanders every single day.
MPT is also the backbone of the Maryland Statewide Public Safety Communications System that protects the lives of Marylanders every single day.
And MPT's Thinkport produces interactive resources, educational videos, online courses, and professional development opportunities that benefit hundreds of thousands of children, teachers and parents every year.
Yet nobody on this staff is content to rest on these impressive laurels.
They remind me of my friend Gordon Cooper, the last Mercury astronaut to go into space, who set records for most time, most orbits, and most everything else with the flight of Faith 7 in 1963.
Gordo was always polite and appreciative when people asked him about those long-ago exploits, but when I got to know him 20 years ago, this 71-year-old adventurer was much more interested in developing a new propulsion system that would get astronauts to Mars more quickly and safely.
This same pioneering spirit is what animates the people of Maryland Public Television: setting new standards of innovation and excellence, serving this State and all of its people as only one amazing public television station can do.
Just last weekend, Larry Unger and Steven Schupak accepted the prestigious Governors Award from the National Academy of Television Arts and Sciences, with a citation that concluded: "MPT's contributions to the community and local journalism are immeasurable."
As we celebrate their achievements tonight, may I thank all of you – as a former chairman of the MPT Foundation should do – for making all of this possible, through your very generous financial, political and moral support over 50 years of exceptional service.
And thanks for all you will do in the 50 years and more to come, as Maryland Public Television proves every day that "the best is yet to be."