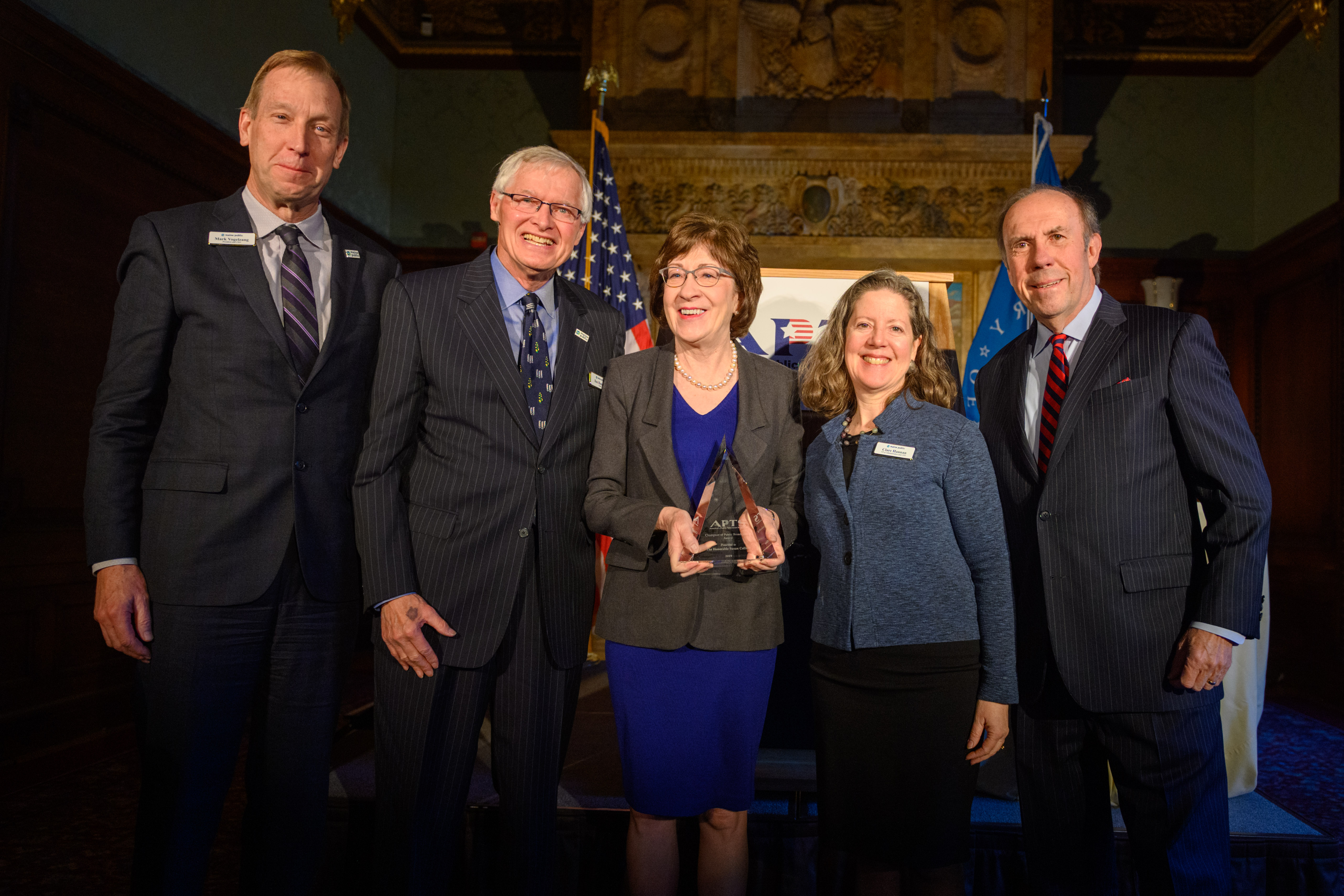 WASHINGTON – February 27, 2019 – America's Public Television Stations (APTS) today presented the Champion of Public Broadcasting Award to Senator Susan Collins (R-ME).

A senior member of the Senate Appropriations Committee, Senator Collins has been a long-time supporter of federal funding for public television.

"Now in her fourth term representing the people of Maine, Senator Collins has established a reputation much like that of her idol and predecessor, Senator Margaret Chase Smith – as the conscience of the Senate," said APTS president and CEO Patrick Butler. "As a member of the Committee on Health, Education, Labor and Pensions, Senator Collins helped ensure that our Ready To Learn program was reauthorized in 2015. She's a devoted fan of Maine Public, and we're grateful that support for public media has been one of her consistent causes. We're fortunate that such a strong woman of principle serves the nation as well as Maine. And we're honored to present Senator Susan Collins with the 2019 Champion of Public Broadcasting Award."

"Public broadcasting provides a valuable public service to communities throughout the State of Maine and our nation," said Senator Collins. "I am honored to receive the Champion of Public Broadcasting Award, and I thank America's Public Television Stations for all that they do to ensure that communities across the country have access to the valued children's educational content, in-depth news programming, and vast world of arts and culture through public broadcasting."

Susan M. Collins, Maine's senior United States Senator, was first elected to the Senate in 1996. She ranks 12th in Senate seniority and is the most senior Republican woman. Senator Collins chairs the Senate Aging Committee and the Transportation, Housing, and Urban Development Appropriations Subcommittee. She also serves on the Intelligence Committee and the Health, Education, Labor and Pensions Committee.

Senator Collins has long supported investments that benefit public television. In 2014, the Corporation for Public Broadcasting honored Senator Collins with the Thought Leader Award for her work to secure funding for public broadcasting.

For the last five consecutive years, Senator Collins has ranked as the most bipartisan member of the U.S. Senate, and she received the inaugural Jacob Javits Prize for Bipartisan Leadership. Known for her Maine work ethic, Senator Collins has never missed a roll call vote, casting more than 6,800.

A native of Caribou, Maine, Senator Collins graduated Phi Beta Kappa from St. Lawrence University and joined the staff of then-Congressman and later Senator William Cohen. She was appointed director of the Small Business Administration's regional office in Boston by President George H.W. Bush, and she was the founding executive director of the Center for Family Business at Husson University in Bangor, Maine.

The Champion of Public Broadcasting Award was presented to Senator Susan Collins (R-ME) during the APTS Public Media Summit on Wednesday, February 27, 2019.
###
About APTS
America's Public Television Stations (APTS) is a nonprofit membership organization ensuring a strong and financially sound public television system and helping member stations provide essential public services in education, public safety and civic leadership to the American people. For more information, visit www.apts.org.
Contact:
Stacey Karp
202-654-4222
skarp@apts.org