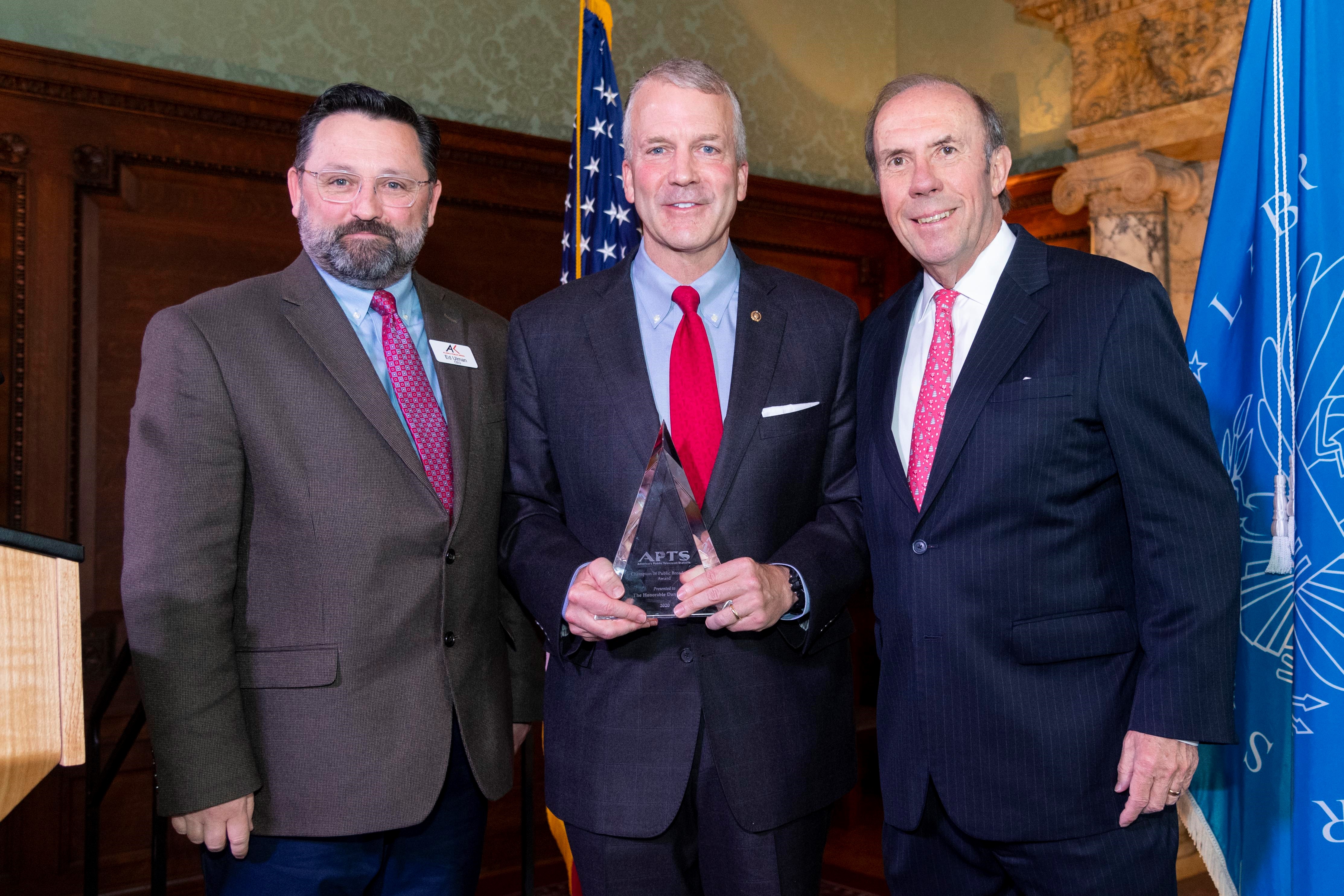 (L-R: Ed Ulman, President and CEO, Alaska Public Media;
Senator Dan Sullivan; and Patrick Butler, President and CEO, APTS)
WASHINGTON - February 26, 2020 - America's Public Television Stations (APTS) today presented the Champion of Public Broadcasting Award to Senator Dan Sullivan (R-AK).

Senator Sullivan has been an enthusiastic supporter of public media and recognizes the importance of federal funding for the work of local stations. As the Republican sponsor of the annual Senate public media funding letter for the last two years, Senator Sullivan played a critically important role in increasing federal funding for the Corporation for Public Broadcasting (CPB) last year, the first increase in 10 years.
"Senator Sullivan is a vigorous advocate of public broadcasting, particularly his local stations in Alaska, all fine examples of the community-based service to which public television stations throughout America are committed, particularly in the fields of education, public safety and civic leadership," said APTS president and CEO Patrick Butler.
"Senator Sullivan tirelessly champions our cause, and we are extraordinarily grateful for his leadership in expanding our bipartisan support in Congress. America's Public Television Stations are honored to present Senator Sullivan with the Champion of Public Broadcasting Award he so richly deserves."
"I'm honored to accept this award from America's Public Television Stations, and am proud to lead to the efforts to continue federal funding for local public media stations," said Senator Dan Sullivan. "Public media is crucial in providing education, public safety and in-depth news, information, and cultural programming to all Americans. In Alaska, and other rural states, local public broadcasting stations play a critical role in providing local information during disasters, and also in connecting communities. At a time when news outlets are shrinking, I thank public broadcasting and America's Public Television Stations for their very important work in providing excellent community-based services."
Dan Sullivan was sworn in as Alaska's eighth United States Senator on January 6, 2015. Senator Sullivan serves on four Senate committees vital to Alaska: the Commerce, Science and Transportation Committee; the Armed Services Committee; the Environment and Public Works Committee; and the Veterans' Affairs Committee.
Prior to his election to the U.S. Senate, Senator Sullivan served as Alaska's Attorney General and Commissioner of the Alaska Department of Natural Resources. As Alaska's Attorney General, Senator Sullivan's number one priority was protecting Alaskans, their physical safety, financial well-being and individual rights - particularly Alaska's most vulnerable. During his tenure he spearheaded a comprehensive statewide strategy - the "Choose Respect" campaign - to combat Alaska's high rates of domestic violence and sexual assault. Under Senator Sullivan's leadership, the Department of Law also undertook an aggressive strategy of initiating and intervening in litigation aimed at halting federal government overreach into the lives of Alaskans and their economy.
Senator Sullivan has a distinguished record of military and national security service. He is currently a Colonel in the U.S. Marine Corps Reserve. Since 1993, Senator Sullivan has served in a variety of command and staff billets on active duty and in the reserves, including: TRAP Force Commander and 81mm mortar Platoon Commander, 31st Marine Expeditionary Unit (Special Operations Capable); Weapons Company Executive Officer, Second Battalion, Fifth Marines; Commanding Officer, Delta Company, Anti-Terrorism Battalion; Executive Officer, Echo Company, Fourth Reconnaissance Battalion; and Commanding Officer, 6th Air Naval Gunfire Liaison Company (ANGLICO). In 2004, Senator Sullivan was recalled to active duty for a year and a half to serve as a staff officer to the Commander of U.S. Central Command, General John Abizaid, spending substantial time deployed in the Middle East, the Horn of Africa, and Central Asia. In July 2013, Senator Sullivan was recalled to active duty to serve with a Joint Task Force in Afghanistan focusing on dismantling terrorist networks and criminalizing the Taliban insurgency.
Senator Sullivan served in the Administration of President George W. Bush as the U.S. Assistant Secretary of State for Economic, Energy, and Business under Secretary of State Condoleezza Rice. He focused on fighting terrorist financing, and implementing policies relating to international energy, economic, trade, finance, transportation, telecommunications and Arctic issues. Senator Sullivan also served as a Director in the International Economics Directorate of the National Security Council staff at the White House.
Senator Sullivan earned a B.A. in Economics from Harvard University in 1987 and a joint law and Masters of Science in Foreign Service from Georgetown University in 1993. Dan and his wife Julie Fate Sullivan were married over 20 years ago in Julie's hometown of Fairbanks, Alaska. They have three teenage daughters: Meghan, Isabella and Laurel.
The Champion of Public Broadcasting Award was presented to Senator Dan Sullivan (R-AK) during the APTS Public Media Summit on Wednesday, February 26, 2020.
###
About APTS
America's Public Television Stations (APTS) is a nonprofit membership organization ensuring a strong and financially sound public television system and helping member stations provide essential public services in education, public safety and civic leadership to the American people. For more information, visit www.apts.org.

Contact:
Stacey Karp
202-654-4222
skarp@apts.org