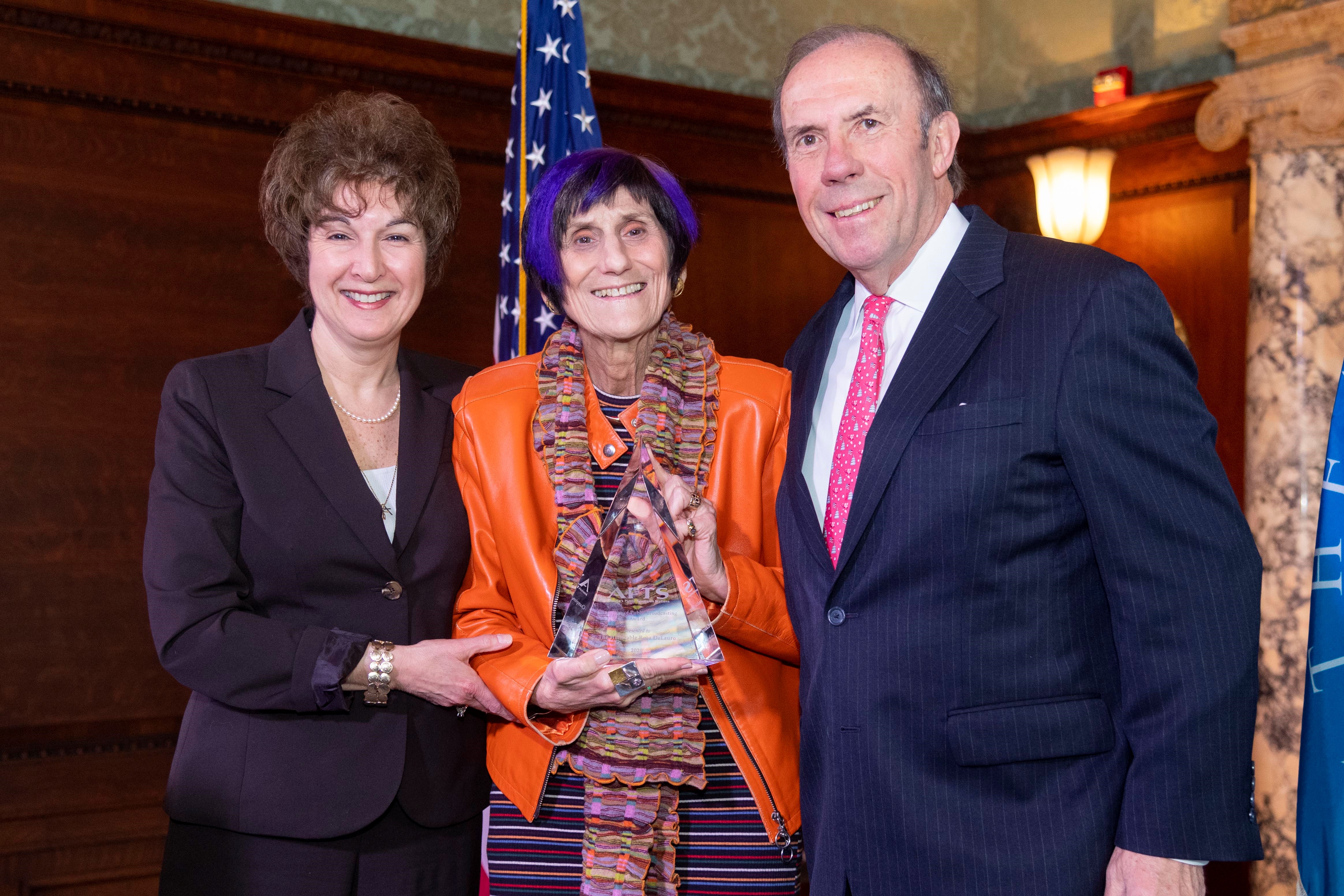 (L-R: Meg Sakellarides, Chief Financial Officer, Connecticut Public;
Congresswoman Rosa DeLauro; and Patrick Butler, President and CEO, APTS)
WASHINGTON – February 26, 2020 – America's Public Television Stations (APTS) today presented the Champion of Public Broadcasting Award to Congresswoman Rosa DeLauro (D-CT).
As chairwoman of the House Labor-HHS-Education Appropriations Subcommittee, Congresswoman DeLauro's leadership last year was critical to securing a $20 million increase in federal funding for public broadcasting -- the first increase in a decade -- which will have a significant impact on local stations and the services they provide to their communities.
"Chairwoman DeLauro has been a long-time supporter and friend of public broadcasting," said APTS president and CEO Patrick Butler. "We are immensely grateful for her leadership on our funding issues and for championing the essential community-based services to which our local stations are committed, in the fields of education, public safety and civic leadership.
"We are particularly grateful for the Congresswoman's support of public television's growing work in adult education and workforce development. Our job placement rate exceeds 90 percent, as our hundreds of training courses give us considerable flexibility to match skills with employment needs in America's communities.
"Congresswoman DeLauro understands well our commitment to local service far beyond the television set, and we are honored to present her with our 2020 Champion of Public Broadcasting Award in recognition of her extraordinary efforts to win an increase in our federal funding for the first time in 10 years."
"It is an honor to receive this award. I am proud to be a champion of public broadcasting, and I take this not as a recognition for past efforts, but as a call to keep working," said Congresswoman DeLauro. "Now more than ever, people are overwhelmed by information — much of it disinformation, sensationalism, or unfairly biased. So, the service public broadcasters provide is crucial — a resource of information dedicated to reaching all people and enlightening all people. That is why it is so disheartening to see the Trump administration seek to the eliminate the Corporation for Public Broadcasting in this year's budget proposal. As Chair of the Appropriations Subcommittee that funds public broadcasting, you have my word: that is not going to happen."
Congresswoman DeLauro serves in the Democratic leadership as Co-Chair of the Democratic Steering and Policy Committee, and she is the Chair of the Labor, Health and Human Services, and Education Appropriations Subcommittee, where she oversees out nation's investments in education, health, and employment. Congresswoman DeLauro also serves as a senior Democrat on the subcommittee responsible for the U.S. Department of Agriculture and the U.S. Food and Drug Administration — where she oversees food and drug safety — and on the House Budget Committee.
Soon after earning degrees from Marymount College and Columbia University, Congresswoman DeLauro followed her parents' footsteps into public service, serving as the first Executive Director of EMILY's List, a national organization dedicated to increasing the number of women in elected office; Executive director of Countdown '87, a national campaign that successfully stopped U.S. military aid to the Nicaraguan Contras; and as Chief of Staff to U.S. Senator Christopher Dodd. In 1990, Congresswoman DeLauro was elected to the House of Representatives, and she has served as the Congresswoman from Connecticut's Third Congressional District ever since.
Congresswoman DeLauro is married to Stanley Greenberg, Founding Partner of Greenberg Quinlan Rosner, a public issues research firm. Their children — Anna, Kathryn and Jonathan Greenberg — all are grown and pursuing careers. Congresswoman DeLauro and Stan have six grandchildren: Rigby, Teo, Sadie, Jasper, Paola and Gus.
The Champion of Public Broadcasting Award was presented to Congresswoman Rosa DeLauro (D-CT) during the APTS Public Media Summit on Wednesday, February 26, 2020.
###
About APTS
America's Public Television Stations (APTS) is a nonprofit membership organization ensuring a strong and financially sound public television system and helping member stations provide essential public services in education, public safety and civic leadership to the American people. For more information, visit www.apts.org.
Contact:
Stacey Karp
202-654-4222
skarp@apts.org