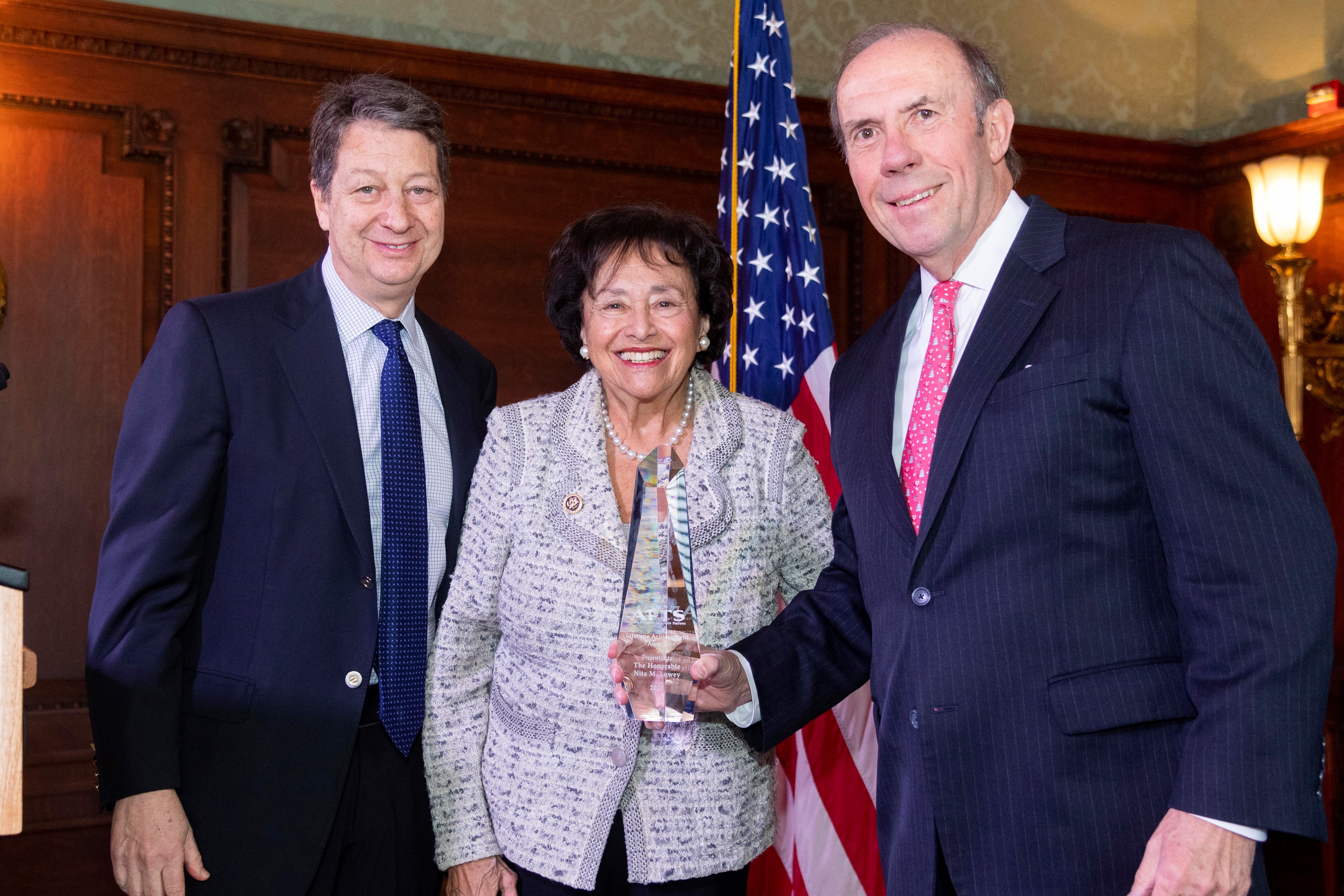 (L-R: Neal Shapiro, President and CEO, WNET; Congresswoman Nita Lowey;
Patrick Butler, President and CEO, APTS)
WASHINGTON – February 26, 2020 – America's Public Television Stations (APTS) today presented the Lifetime Achievement Award to Congresswoman Nita Lowey (D-NY), chairwoman of the House Appropriations Committee, for her extraordinary leadership on public broadcasting issues throughout her 32-year congressional career.
This is only the second Lifetime Achievement Award to be awarded by APTS. The first was presented to Senator Tom Harkin (D-IA) in 2014.
Chairwoman Lowey led the successful effort in 2019 to increase federal funding for the Corporation for Public Broadcasting, by $20 million, for the first time in ten years. In 2005, she offered an amendment on the House floor to stave off cuts and increase the appropriations for the Corporation for Public Broadcasting by $100 million. This dramatic legislative effort changed the course of public broadcasting history and ensured that federal funds would be available to support stations' community service in education, public safety and civic leadership.
"Congresswoman Nita Lowey has been an effective, energetic and courageous champion of public broadcasting during her entire career on Capitol Hill," said APTS president and CEO Patrick Butler. "Her advocacy on our behalf has secured and increased our federal funding and made it possible for us to teach millions of America's children, protect lives and property through our public safety communications mission, tell the stories of hometown America in memorable ways, and equip our citizens to lead the world's most important democracy.
"This remarkable support of public broadcasting is only the beginning of Chairwoman Lowey's impact for good on the nation she has served so long and so well, and America's Public Television Stations are deeply honored to present this most well-deserved Lifetime Achievement Award to Congresswoman Nita Lowey."
"I am honored to receive this award from our friends at America's Public Television Stations," said Congresswoman Lowey. "Our public television stations bring world events, the arts and high-quality educational programming for all ages into households throughout our country each day. Generations who grew up with Bert and Ernie now rely on public TV as a valuable news and entertainment source. I have been proud to work to protect and advance public broadcasting throughout my tenure in Congress and look forward to building on the success of past years to continue to support access to public broadcasting for all Americans."
Congresswoman Nita M. Lowey is currently serving her 16th term in Congress, representing parts of Westchester and Rockland Counties. She was first elected to the U.S. House of Representatives in 1988 and served in the Democratic Leadership in 2001 and 2002 as the first woman and the first New Yorker to chair the Democratic Congressional Campaign Committee. She is also the first woman to chair the powerful House Appropriations Committee.
At the beginning of the 113th Congress, Congresswoman Lowey was selected by her colleagues to be the Ranking Democrat on the powerful House Appropriations Committee. Lowey is an extremely effective, committed legislator with a substantial record. Congressional Quarterly called her one of the 50 most effective Members of Congress, saying she "maneuvers skillfully through the appropriations process," and Newsday said she "delivers for New York."
Few members of Congress have taken key leadership roles on so many vital public policy issues. Congresswoman Lowey is a leading Congressional proponent of educational opportunity, health care quality and biomedical research, improved homeland security preparedness, stricter public safety laws, environmental protection, women's issues, a leading international role for the United States, and national security.
An outspoken supporter of transportation, nuclear, and infrastructure security, Congresswoman Lowey was appointed to the Select Committee on Homeland Security and recognized by the New York Post as "a key general in the battle to rebuild New York" for her leadership in securing over $20 billion for recovery efforts after September 11, 2001. Her efforts to distribute homeland security grants based on risk and to screen airport personnel in secure areas have been endorsed by The New York Times. Congresswoman Lowey has also helped to obtain more than $68 million in federal funds to develop local bioterrorism response plans and to provide local first responders with interoperable communication devices, rescue equipment, and personal protective gear.
Congresswoman Lowey is a strong advocate for women, children, and families. She has been a champion of education throughout her career, fighting for school modernization, teacher development, and literacy programs. Under Congresswoman Lowey's leadership, federal funding for after-school programs has increased from $1 million in 1996 to $1 billion today.
When funding for the Corporation for Public Broadcasting was proposed for elimination in the 1990s, Congresswoman Lowey "invited" puppets Bert and Ernie to a Congressional hearing. The resulting worldwide publicity is largely credited with saving the agency. When public media was again targeted for severe budget cuts in 2005, Congresswoman Lowey again successfully restored funding. She has been equally stalwart in her defense of the National Endowment for the Arts (NEA) and served on the prestigious National Council for the Arts in recognition of her leadership.
Congresswoman Lowey was born in the Bronx; graduated from the Bronx High School of Science; and received a Bachelor's Degree from Mount Holyoke College. She served as Assistant Secretary of State for the State of New York before being elected to Congress. Congresswoman Lowey and Stephen Lowey have been married for more than 50 years and have three grown children and eight grandchildren.
The Lifetime Achievement Award was presented to Congresswoman Nita Lowey (D-NY) during the APTS Public Media Summit on Wednesday, February 26, 2020.
###
About APTS
America's Public Television Stations (APTS) is a nonprofit membership organization ensuring a strong and financially sound public television system and helping member stations provide essential public services in education, public safety and civic leadership to the American people. For more information, visit www.apts.org.

Contact:
Stacey Karp
202-654-4222
skarp@apts.org