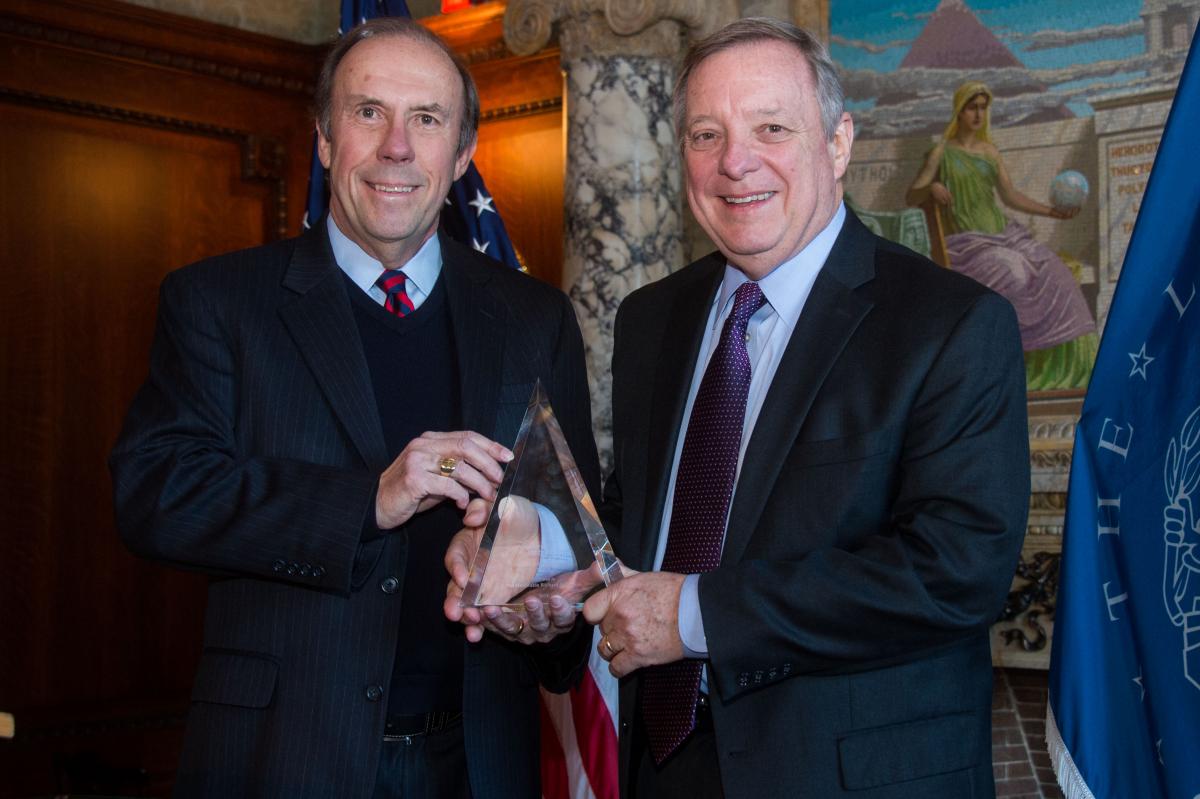 WASHINGTON — February ­24, 2015 — The Association of Public Television Stations (APTS) today presented its Champion of Public Broadcasting Award to Senator Richard J. Durbin (D-IL).
The Champion of Public Broadcasting Award is given to political leaders and other individuals who safeguard the ability of local public television stations to provide education, public safety and civic leadership services to their communities.
"Senator Durbin has been a steadfast advocate for public broadcasting from his time in the House of Representatives through his current service as Assistant Democratic Leader in the Senate," said APTS president and CEO Patrick Butler. "As a member of the Senate Appropriations Committee and its Labor-HHS-Education Subcommittee, Senator Durbin has championed both our CPB funding and the critical federal investment in the Ready To Learn program that enables public television to help close the academic achievement gap between children from low-income families and their more affluent peers. He is, in addition, an extraordinary statesman who serves Illinois and the nation with great distinction, and he embodies the enlightened civic leadership that lies at the core of our public service mission. It is our great honor to present the Champion of Public Broadcasting award to Senator Durbin, who richly deserves it."
"In Illinois, millions of people tune in to public television as their trusted source for the latest in local and national news, including myself," Senator Durbin said. "I want to thank the Association of Public Television Stations for this honorable award. Making continued investments in local public television stations is an important part of keeping communities informed and engaged, and I'm proud to support programs in Congress that support Illinois' eight public television stations."
Senator Dick Durbin, a Democrat from Springfield, is the 47th U.S. Senator from the state of Illinois, the state's senior senator, and the convener of Illinois' bipartisan congressional delegation. Sen. Durbin also serves as the Assistant Democratic Leader, the second-highest ranking position among the Senate Democrats. Also known as the Minority Whip, Senator Durbin has been elected to this leadership post by his Democratic colleagues every two years since 2005.
Elected to the U.S. Senate on November 5, 1996, and re-elected in 2002, 2008 and 2014, Senator Durbin fills the seat left vacant by the retirement of his long-time friend and mentor, U.S. Senator Paul Simon.
Senator Durbin sits on the Senate Judiciary, Appropriations, and Rules Committees. He is the Ranking Member of the Judiciary Committee's Subcommittee on the Constitution and the Appropriations Committee's Defense subcommittee.
Senator Durbin makes approximately 50 round-trips a year between Washington and Illinois. He is married to Loretta Schaefer Durbin, and they have three children – Christine (deceased), Paul and Jennifer – as well as three grandchildren, Alex, Ona and Floyd. They reside in Springfield.
The Champion of Public Broadcasting Award was presented to Senator Durbin during The APTS Public Media Summit on Tuesday, February 24.
About APTS
The Association of Public Television Stations (APTS) is a nonprofit membership organization established in 1979. The mission of APTS is to conduct – in concert with member stations – advocacy, planning, research, communications and other activities that foster a strong and financially sound public television system providing essential public services to all Americans. Its affiliate APTS Action, Inc. promotes the legislative and regulatory interests of noncommercial television stations at the national level through direct advocacy and through grasstops and grassroots campaigns designed to garner bipartisan congressional support. For more information, visit www.apts.org.
###