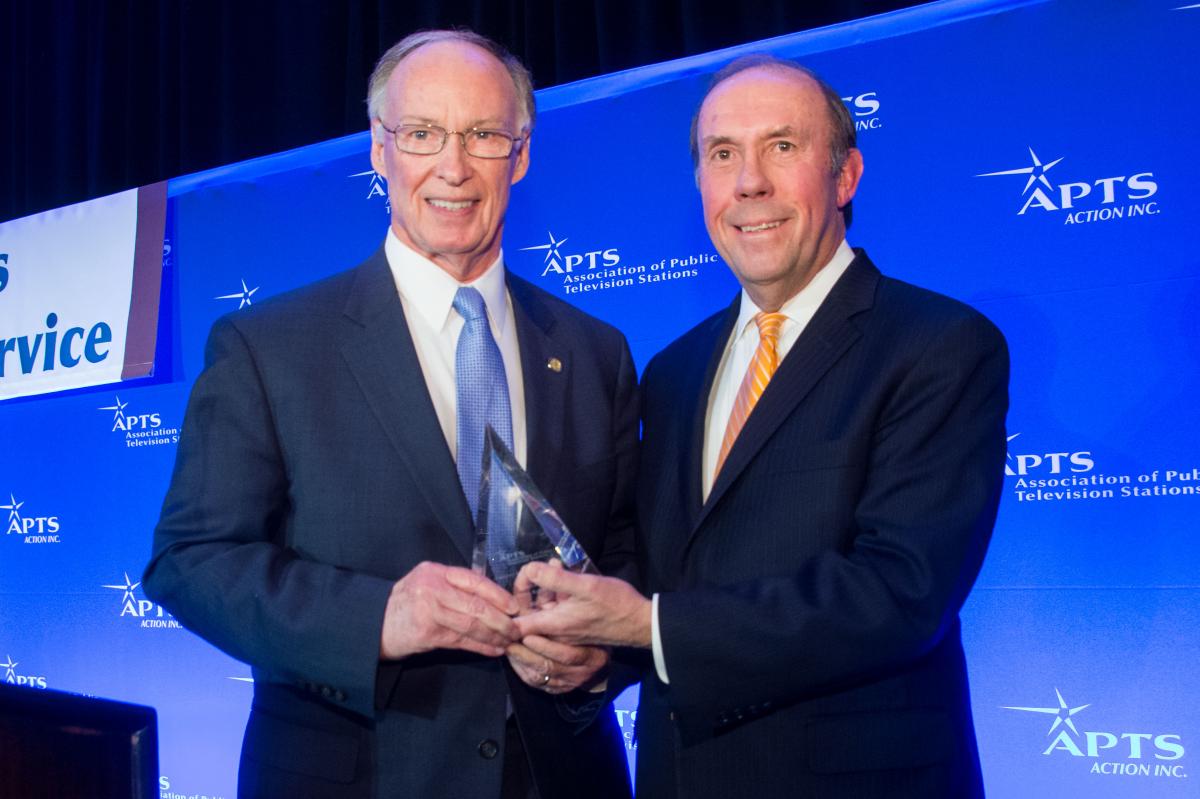 WASHINGTON — February ­22, 2015 — The Association of Public Television Stations (APTS) today presented its Champion of Public Broadcasting Award to Governor Robert Bentley (R-AL).
The Champion of Public Broadcasting Award is given to political leaders and other individuals who safeguard the ability of local public television stations to provide education, public safety and civic engagement services to their communities.
"Last year, Governor Bentley, a proud conservative and a vigilant champion of taxpayers' interests, proposed a 38 percent increase in state funding for Alabama Public Television, America's first state public television network," said APTS president and CEO Patrick Butler. "He proposed this increased investment in recognition of Alabama Public Television's cost-effective and high-quality solutions to the state's early education challenge and its public safety requirements. We are profoundly grateful for his support of public television's public service mission, and we are honored to present a well-deserved Champion of Public Broadcasting Award to Governor Bentley."
"I am honored to receive the 2015 Champion of Public Broadcasting Award," Governor Robert Bentley said. "The implementation of a state educational television network in Alabama was the first such network launched in the United States. For 60 years, Alabama Public Television has been dedicated to providing educational services to children and adults in Alabama. I am proud to support public broadcasting and the learning opportunities it provides for our citizens."
In 2010, Governor Robert Bentley was elected the 53rd Governor of the State of Alabama on his promise to put Alabamians back to work. Upon taking office, Governor Bentley made the creation of new jobs a top priority in his Administration by instructing his Cabinet and State Agencies to join him in his effort to lower the unemployment rate and grow the state's economy. Executive Order 2 was signed by Governor Bentley on his first day in office, instructing all State agencies, departments and commissions to include job creation as a priority in their service to the State.
On Governor Bentley's 100th day in office, Alabama experienced one of the worst natural disasters in U.S. history. More than 250 Alabamians were killed as 62 powerful tornadoes damaged two-thirds of the state on April 27, 2011. Governor Bentley was praised for his great leadership, strength and stability in the aftermath of the storms. He personally visited each community in the storms' paths and lead local governments to expedite the massive cleanup effort. Governor Bentley established the Governor's Emergency Relief Fund to fund unmet needs of individuals. His Administration is now engaged in a massive long-term recovery and the greatest reconstruction effort in the state since the Civil War.
Prior to becoming Governor, Dr. Bentley served two terms in the Alabama House of Representatives. He represented House District 63 in Tuscaloosa. He was born and raised in Shelby County and graduated from The University of Alabama School of Medicine. He was commissioned Captain in the United States Air Force. Upon completion of his military service, he completed his residency in Dermatology at UAB.
Dr. Bentley moved to Tuscaloosa in 1974 and established his own dermatology practice. Under his leadership, Alabama Dermatology Associates grew to become one of the largest dermatology practices in the Southeast.
Governor Bentley currently chairs NGA's Economic Development and Commerce Commission. He is also the chair of the Appalachian Regional Commission and co-chairs the Governors' Task Force on Prescription Drug Abuse through the National Governor's Association.
Governor Bentley and his wife of 48 years, Dianne, have four sons and seven granddaughters.
The Champion of Public Broadcasting Award was presented to Governor Bentley during The APTS Public Media Summit on Sunday, February 22.
About APTS
The Association of Public Television Stations (APTS) is a nonprofit membership organization established in 1979. The mission of APTS is to conduct – in concert with member stations – advocacy, planning, research, communications and other activities that foster a strong and financially sound public television system providing essential public services to all Americans. Its affiliate APTS Action, Inc. promotes the legislative and regulatory interests of noncommercial television stations at the national level through direct advocacy and through grasstops and grassroots campaigns designed to garner bipartisan congressional support. For more information, visit www.apts.org.
###