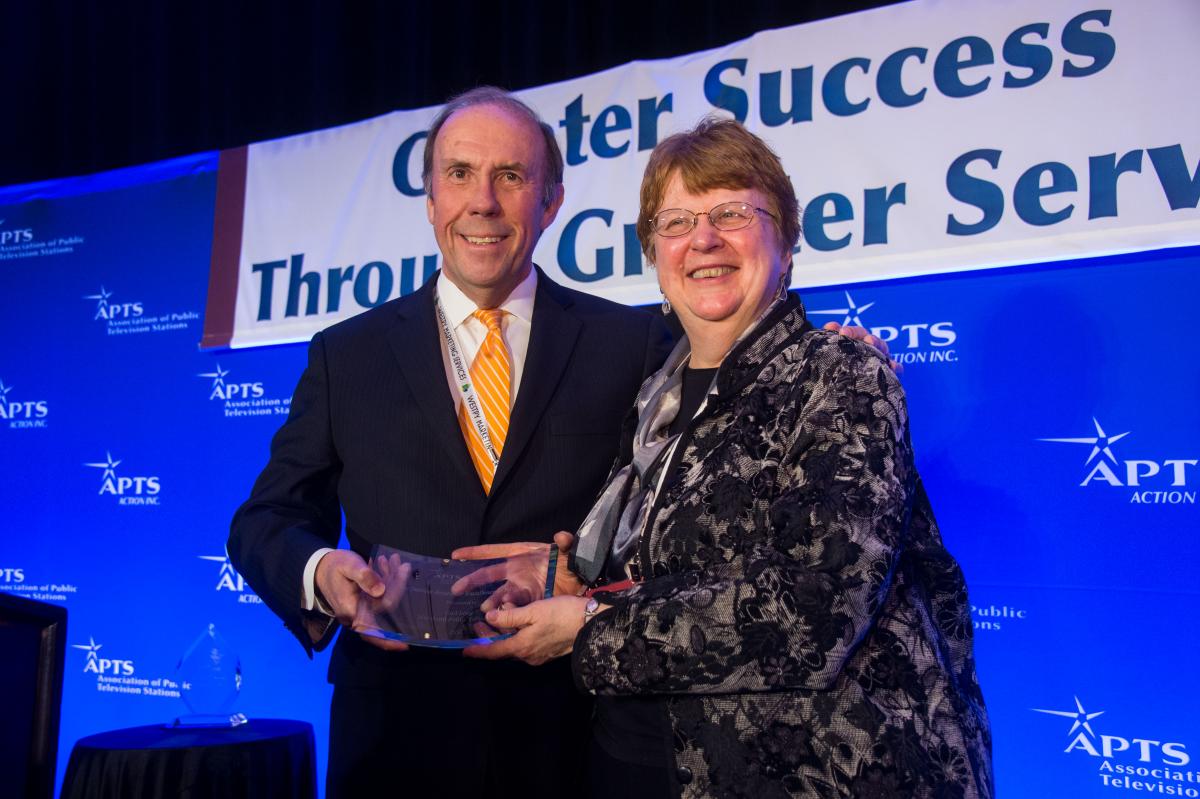 WASHINGTON — February 22, 2015 — The Association of Public Television Stations (APTS) today presented the first-ever Public Service Award for Excellence in Education to Gail Porter Long, who recently retired as senior vice president and chief education officer at Maryland Public Television after four decades of service. The Public Service Award for Excellence in Education recognizes the contributions of an extraordinary leader of public television's education mission.
"For nearly 40 years, Gail Porter Long has provided innovative and exemplary education services to both Maryland Public Television and the students of Maryland," said Patrick Butler, president and CEO of APTS. "Gail's remarkable leadership has resulted in several innovative and groundbreaking educational tools for children, including the Thinkport online education platform that has helped Maryland students consistently claim the number one ranking in scholastic achievement nationwide. No one is more deserving of this inaugural Public Service Award for Excellence in Education than Gail Long, and I'm honored to present it to her."
"Through the efforts of public media professionals across the country, pre-schoolers enter kindergarten more ready to learn, K-12 students are more engaged in their classes and teachers are more prepared to harness the power of technology to enhance their students' learning," Long said. "It has been my honor and privilege to work with these talented colleagues across the country, and especially at Maryland Public Television, to advance these efforts."
In her role as senior vice president and chief education officer at Maryland Public Television (MPT), Gail Porter Long was responsible for all MPT education activities, including the design, development and use of media technology for formal and informal education.
During her nearly four-decade MPT tenure, Ms. Long oversaw numerous digital education content initiatives including Thinkport, an online web service for the K-12 education community, and Lure of the Labyrinth, an online game that builds math and literacy skills. She also spearheaded projects that included collaborations with the Maryland State Department of Education on the U.S. Department of Education-funded Race to the Top initiative.
Ms. Long's leadership in fundraising efforts has resulted in MPT's securing more than $40 million in grants from the U.S. Department of Education, the National Endowment for the Humanities, the National Science Foundation, the Corporation for Public Broadcasting, the National Institutes of Health, the Annenberg Foundation, and the Carnegie Corporation.
Under Ms. Long's direction, MPT received numerous awards for Thinkport and other interactive digital resources for students, including an international Webby Award for best education website, an Emmy® Award, and the "Best of the Best" honor from the National Educational Telecommunications Association (NETA).
Ms. Long spent her professional career at MPT. She was vice president for education and interactive media, a role in which she led the development of national prototypes for education programming using new digital TV capabilities as part of the U.S. Department of Education's "Star Schools" initiative. She was also director of educational projects, executive producer for national education productions, and a producer for educational productions.
Ms. Long earned a bachelor's degree in English with high honors from the College of William and Mary and a master's in radio and television from Ohio State University. A second master's degree, an M.Ed. in curriculum design, was awarded to her by Johns Hopkins University.
Ms. Long resides in the Guilford section of Baltimore.
The 2015 Public Service Award for Excellence in Education was presented to Gail Porter Long during The APTS Public Media Summit on Sunday, February 22.
About APTS
The Association of Public Television Stations (APTS) is a nonprofit membership organization established in 1979. The mission of APTS is to conduct – in concert with member stations – advocacy, planning, research, communications and other activities that foster a strong and financially sound public television system providing essential public services to all Americans. Its affiliate APTS Action, Inc. promotes the legislative and regulatory interests of noncommercial television stations at the national level through direct advocacy and through grasstops and grassroots campaigns designed to garner bipartisan congressional support. For more information, visit www.apts.org.
###