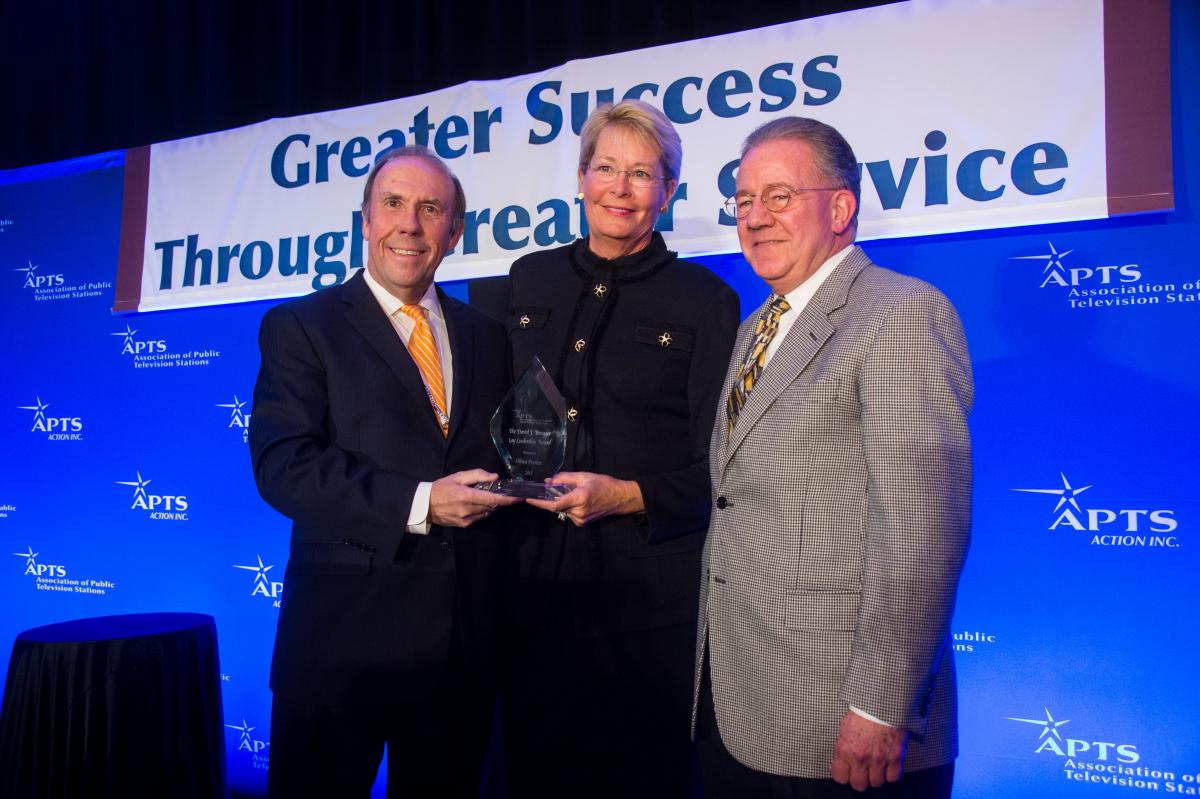 WASHINGTON — February 22, 2015 — The Association of Public Television Stations (APTS) today presented the David J. Brugger Lay Leadership Award to Hilma Prather of Kentucky for her outstanding work as a lay leader and advocate in the public broadcasting system.

The APTS board of trustees created the David J. Brugger Lay Leadership Award in honor of its former president and CEO, David Brugger, the longest-serving leader of the association.

"We are delighted to present Hilma Prather with this year's Brugger Award," said Patrick Butler, president and CEO of APTS. "Hilma is an extraordinarily effective advocate for public broadcasting, and she has a long and distinguished history as a leader and supporter of Kentucky Educational Television. As a professional educator, Hilma has found in public television a powerful tool for improving education in her native Commonwealth and serving the special needs of students in rural and remote areas and those who have the motivation and courage to enroll in KET's superb GED high school equivalency program. Hilma's advocacy for these good people has made her an eloquent and relentless champion for public television, in the halls of Congress and in the legislature of Kentucky. We are very grateful for this work, and we are honored to present the David J. Brugger Award to Hilma Prather, who profoundly deserves it."
"I am humbled and honored to receive this award," said Prather. "As an educator from Kentucky, I am so proud that KET provides our commonwealth and the nation with quality educational resources. Similarly, I'm proud of the service public broadcasting in every state provides giving citizens access to education programs and services, enhanced public safety and opportunities for public engagement."
Hilma Prather's professional life has been dedicated to educating others. After teaching in various Kentucky schools and grade levels, she finished her career as an elementary school principal in Southern Kentucky.
Ms. Prather's advocacy for improving public education in Kentucky has continued in her retirement. She serves on the Kentucky Authority for Educational Television, the governing board of KET, with past service as chair of the Authority. She also serves on the board of the Commonwealth Fund for KET, the statewide network's fundraising arm.
Previously, Ms. Prather served four years on the Kentucky Board of Education, during the initial implementation of the No Child Left Behind Act, including two years as vice chair. She also served on the Council on Postsecondary Education, the oversight board for Kentucky's public universities, and as the chair of the Prichard Committee for Academic Excellence, Kentucky's leading citizen-led education advocacy group.
Ms. Prather's passion for public broadcasting is driven by a commitment to education and lifelong learning.
The David J. Brugger Lay Leadership Award was presented to Hilma Prather during The APTS Public Media Summit on Sunday, February 22.
About APTS
The Association of Public Television Stations (APTS) is a nonprofit membership organization established in 1979. The mission of APTS is to conduct – in concert with member stations – advocacy, planning, research, communications and other activities that foster a strong and financially sound public television system providing essential public services to all Americans. Its affiliate APTS Action, Inc. promotes the legislative and regulatory interests of noncommercial television stations at the national level through direct advocacy and through grasstops and grassroots campaigns designed to garner bipartisan congressional support. For more information, visit www.apts.org.
###