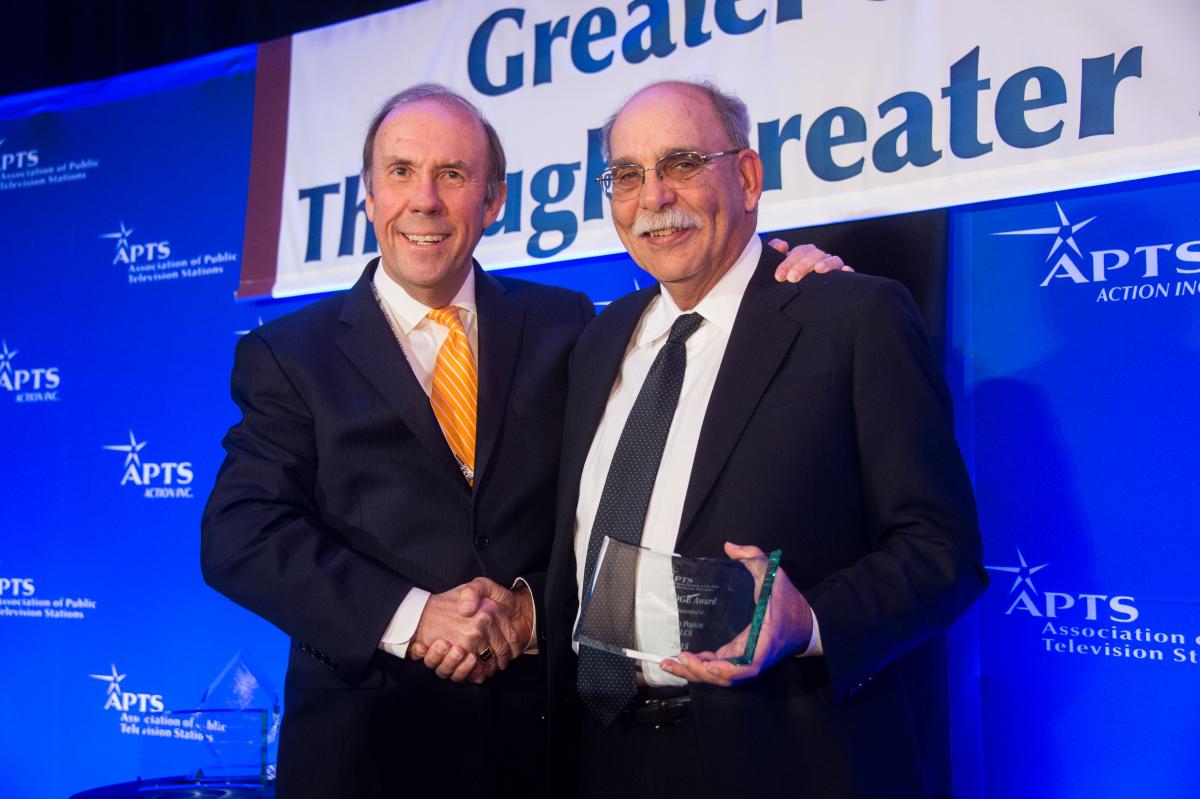 WASHINGTON — February 22, 2015 — The Association of Public Television Stations (APTS) today presented the 2015 EDGE Award to Alan Popkin, Director of Television Engineering and Technical Operations, KLCS-TV in Los Angeles. The EDGE Award is given to an individual who has excelled in the use of technology, groundbreaking partnerships and other pioneering work to advance public television's public service mission.
"I am delighted to present the 2015 EDGE Award to Alan Popkin for his extraordinary leadership in last year's channel sharing pilot between KLCS and KJLA, in partnership with our Association and CTIA," said Patrick Butler, president and CEO of APTS. "This pilot demonstrated the feasibility, strengths and challenges of channel sharing for public television stations, and Alan's remarkable expertise has been immensely helpful to stations across the country in determining their best options in the upcoming FCC spectrum auction and repacking process."
"It was a privilege working with APTS, CTIA and KJLA to explore the possibilities presented by channel sharing," Popkin said. "It was our hope to present real world data to the Public Broadcast community to enable the leadership teams of the stations to make informed decisions regarding the upcoming Spectrum Auction. I appreciate the honor and humbly share it with my team that participated in the test."
Since 2002, Alan Popkin has been Director of Television Engineering and Technical Operations for KLCS-TV in Los Angeles. He has redesigned the entire PBS station to implement state-of-the art broadcasting to the entire Southern California DMA, and datacast to over one million students and teachers, delivering digital content services to an educational audience.
Prior to KLCS, Mr. Popkin was Director of Production for Time Warner Communications, where he managed technical systems, financial, and general operations of an 18,000 sq. ft. HDTV and SDTV production and post-production facility.
Mr. Popkin has performed as a studio musician, and holds a BA in Physics from CUNY. He has won several and been nominated for many awards, including Emmys, ACE and Tellys.
The EDGE Award was presented to Alan Popkin during The APTS Public Media Summit on Sunday, February 22.
About APTS
The Association of Public Television Stations (APTS) is a nonprofit membership organization established in 1979. The mission of APTS is to conduct – in concert with member stations – advocacy, planning, research, communications and other activities that foster a strong and financially sound public television system providing essential public services to all Americans. Its affiliate APTS Action, Inc. promotes the legislative and regulatory interests of noncommercial television stations at the national level through direct advocacy and through grasstops and grassroots campaigns designed to garner bipartisan congressional support. For more information, visit www.apts.org.
###