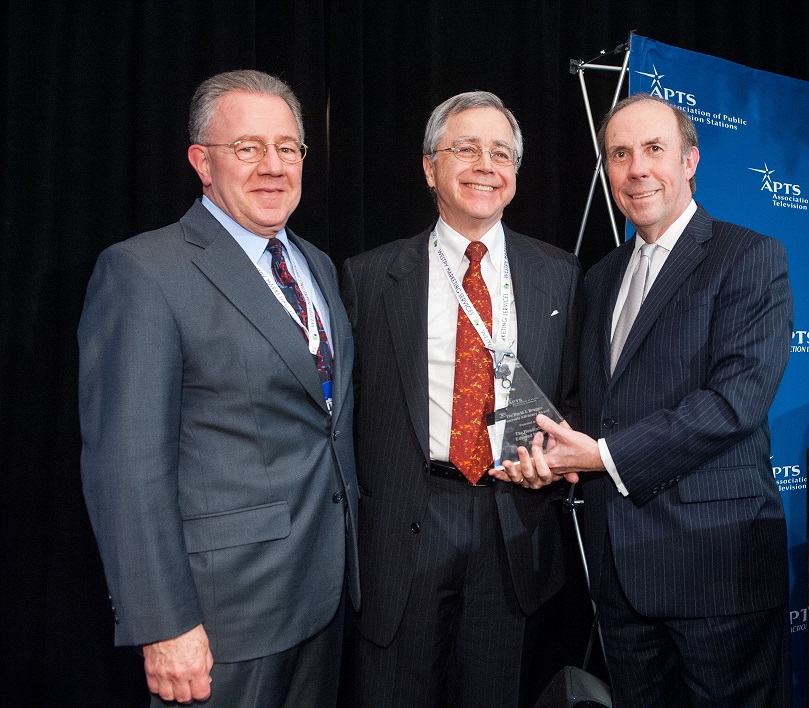 WASHINGTON — February 24, 2014 — The Association of Public Television Stations (APTS) today presented the David J. Brugger Lay Leadership Award to Edmund Driggs, Board Member, WTVI PBS Charlotte in Charlotte, North Carolina, for his outstanding work as an advocate for public television in his community and on the national scene.
The Brugger Award is named for the longtime former APTS president whose tenure was marked by his extensive engagement of community leaders as champions of public television.
"No one has ever deserved the Brugger Award more than Ed Driggs," said Patrick Butler, president and CEO of APTS. "As chair of the APTS Spectrum Opportunities Task Force, Ed spent countless hours mastering the details of the FCC's forthcoming spectrum auctions, talking with technologists, financiers and regulators about the implications of the auctions and the proper valuation of spectrum, and helping us prepare a spectrum handbook for our member stations that has proven immensely useful in informing their decisions about whether and how to participate in the auction process. And while he was at it, he won election to the Charlotte City Council. We simply could not have done this spectrum work without the extraordinary analytical skills and financial expertise Ed brought to the enterprise, and we are profoundly grateful for his tireless and relentless dedication to meeting this important challenge for our stations and our system."
Mr. Driggs was elected in 2013 to his first term on the City Council in Charlotte, North Carolina. Prior to this election, Mr. Driggs was a banker and securities analyst for over 25 years, concluding his career as the senior healthcare services analyst at Goldman, Sachs & Co. in New York.
Mr. Driggs was the chairman of WTVI PBS Charlotte, Charlotte's public television station, from 2006 to 2008. He continues to serve on WTVI's Community Advisory Council. Mr. Driggs is also a member of the boards of Goodwill Industries and Communities in Schools in Charlotte as well as the Central Piedmont Community College President's Council, and he previously served on the board of the Visiting Nurse Service of New York.
Mr. Driggs holds a B.A. in economics from Princeton University, and pursued graduate studies in mathematical economics at Berlin and Oxford Universities.
"In the midst of rapid advances in technology and profound changes in our country's media landscape, it is vital that public television continue to make its important contributions in the areas of education, information, entertainment and public safety. I am grateful for the opportunity I have had to contribute to this endeavor over the years and particularly for the chance to work with all the wonderful people on the staff and board of APTS. Given the satisfaction I have derived from this work, an award hardly seems necessary, but I am honored to receive it and look forward to continuing to work on behalf of public television."
The David J. Brugger Lay Leadership Award was presented to Edmund Driggs during The APTS Public Media Summit on Monday, February 24.
About APTS
The Association of Public Television Stations (APTS) is a nonprofit membership organization established in 1979. The mission of APTS is to conduct – in concert with member stations – advocacy, planning, research, communications and other activities that foster a strong and financially sound public television system providing essential public services to all Americans. Its affiliate APTS Action, Inc. promotes the legislative and regulatory interests of noncommercial television stations at the national level through direct advocacy and through grasstops and grassroots campaigns designed to garner bipartisan congressional support. For more information, visit www.apts.org.
###