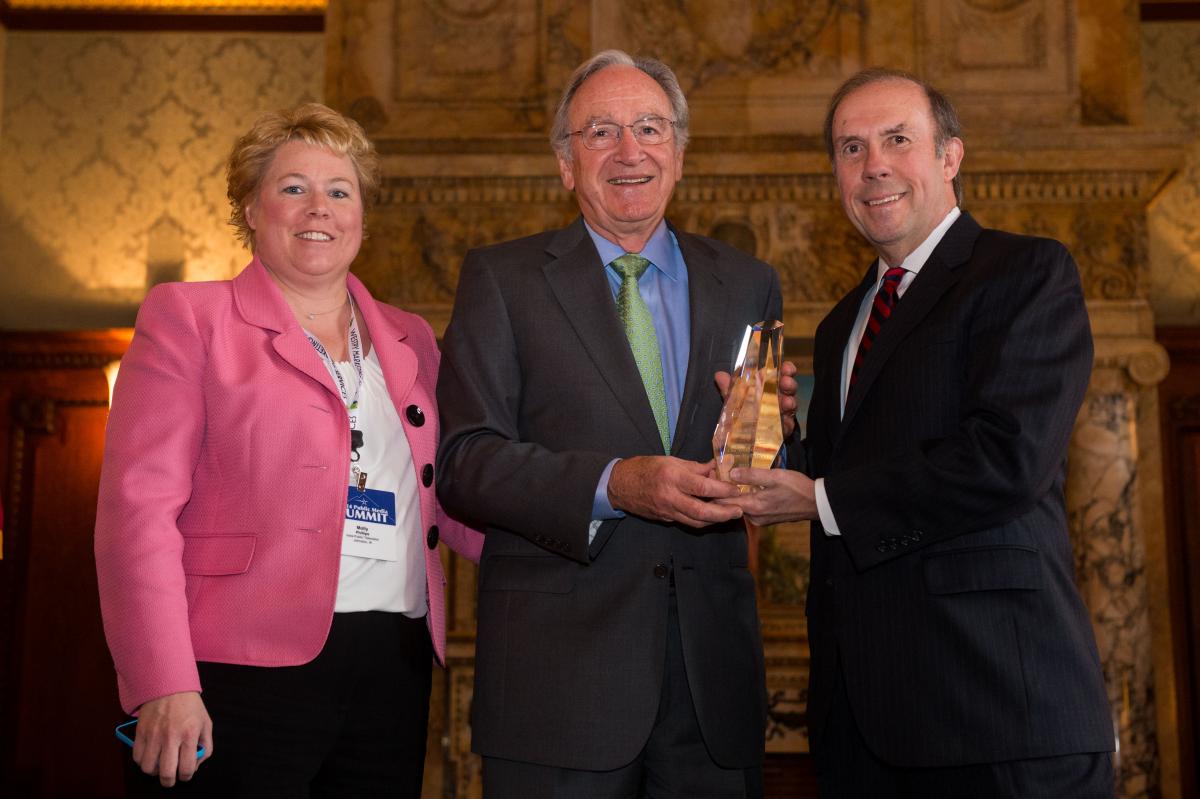 WASHINGTON — February ­25, 2014 — The Association of Public Television Stations (APTS) today presented its first-ever Lifetime Achievement Award to Senator Tom Harkin (D-IA).
The Lifetime Achievement Award will be given on rare occasions to leaders who have demonstrated an extraordinary commitment to public broadcasting over the course of their careers.
"Senator Harkin had been an unwavering champion of public broadcasting not only this year but over the past 40 years," said Patrick Butler, president and CEO of APTS. "As chairman of the Senate Health, Education, Labor and Pensions Committee, Senator Harkin has led the effort to enhance public television's essential education mission, including the preservation of the Ready to Learn program that has helped millions of pre-school children in America get ready to succeed in school and in life. And as chairman of the Senate Appropriations subcommittee on Labor-Health & Human Services-Education, the Senator has been a powerful force for maintaining an appropriate level of federal funding to support public television's public service missions in education, public safety and civic engagement. All of us in public television are profoundly grateful for the Senator's leadership and stewardship on the issues of special importance to us, and we join his constituents in Iowa and his admirers across America in thanking him for four decades of remarkable public service."
"Public broadcasting provides critical educational, informational, and entertainment programming to children, families and seniors across the country," said Senator Harkin. "From Sesame Street to the PBS NewsHour to Iowa Politics on IPTV, I am proud to have led efforts to stand up for the valuable public broadcasting services in our society. Over the years, we have fought together numerous times against attempts to defund and dismantle public broadcasting. We accomplished a great deal and today, I am delighted to receive this honor."
Senator Tom Harkin was born in Cumming, Iowa (pop. 351) on November 19, 1939, the son of an Iowa coal miner father and a Slovenian immigrant mother. To this day, he still lives in the house in Cumming where he was born.
After graduating from Dowling High School in Des Moines, Senator Harkin attended Iowa State University on a Navy ROTC scholarship, earning a degree in government and economics. Following graduation, Senator Harkin served in the Navy as a jet pilot on active duty from 1962 to 1967. Later, he continued to fly in the Naval Reserves. He is an active member of American Legion Post 562 in Cumming and the Commander of the Congressional Squadron of the Civil Air Patrol.
In 1974, Senator Harkin was elected to Congress from Iowa's Fifth Congressional District. His energetic, person-to-person campaign carried the day against an incumbent in a long-standing Republican district.
In 1984, after serving 10 years in the U.S. House of Representatives, Senator Harkin challenged an incumbent Senator and won. Iowans returned him to the Senate in 1990, 1996, 2002 and 2008.
Senator Harkin currently serves as the chairman of the U.S. Senate Committee on Appropriations, Subcommittee on Labor, Health and Human Services, Education and Related Agencies and chairman of the U.S. Senate Committee on Health, Education, Labor and Pensions.
The Lifetime Achievement Award was presented to Senator Harkin during The APTS Public Media Summit on Tuesday, February 25. Please take a moment to watch the presentation.
About APTS
The Association of Public Television Stations (APTS) is a nonprofit membership organization established in 1979. The mission of APTS is to conduct – in concert with member stations – advocacy, planning, research, communications and other activities that foster a strong and financially sound public television system providing essential public services to all Americans. Its affiliate APTS Action, Inc. promotes the legislative and regulatory interests of noncommercial television stations at the national level through direct advocacy and through grasstops and grassroots campaigns designed to garner bipartisan congressional support. For more information, visit www.apts.org.
###