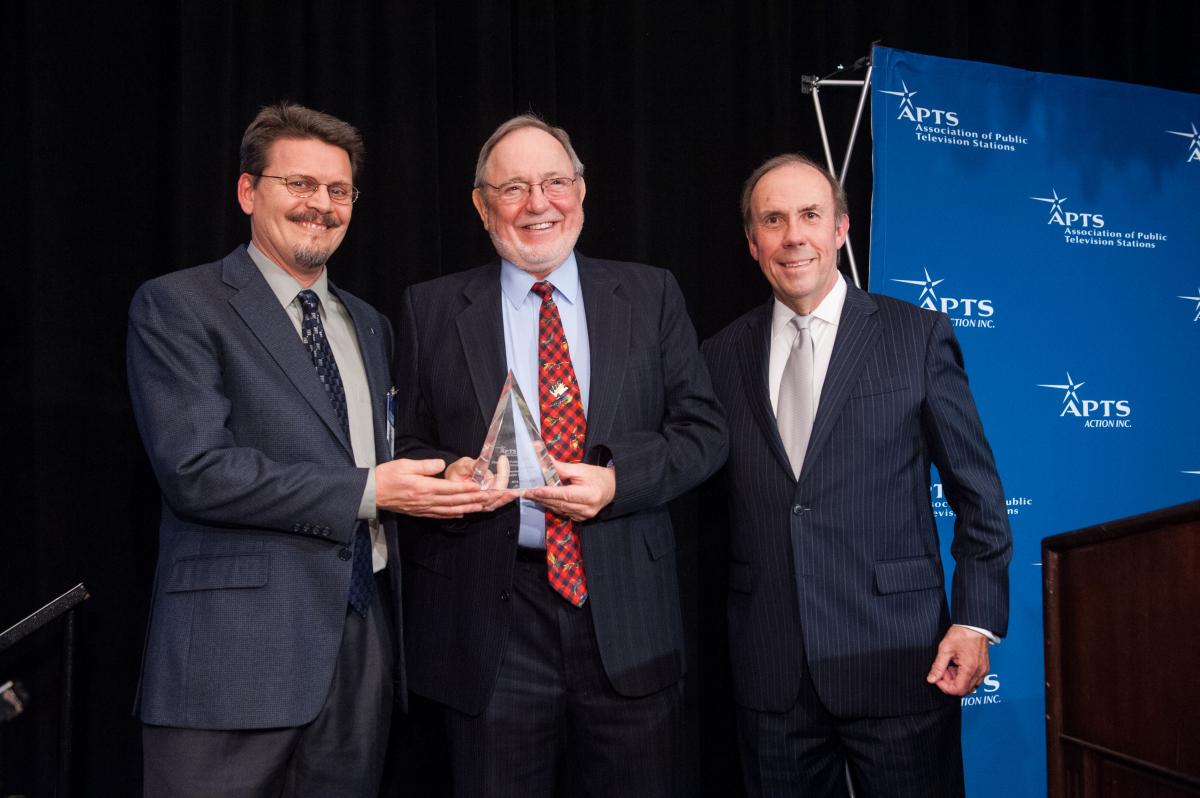 WASHINGTON — February ­24, 2014 — The Association of Public Television Stations (APTS) today presented its Champion of Public Broadcasting Award to Congressman Don Young (R-AK).
The Champion of Public Broadcasting Award is given to Members of Congress and other individuals who safeguard the ability of local public television stations to provide educational, public safety and civic engagement services to their communities.
"Congressman Young has been a strong supporter of public broadcasting for many years," said Patrick Butler, president and CEO of APTS, "and he recognizes the essential nature of our educational, public safety and civic engagement services to the people of the Last Frontier. We are particularly grateful that Congressman Young has agreed to serve as co-chair of the Congressional Public Broadcasting Caucus with Congressman Earl Blumenauer of Oregon – a very important step in building the bipartisan support for public broadcasting we seek in Congress. Thanks to Don Young and many others who have signaled their support, we believe we have made significant progress in the 113th Congress. For all of these reasons, we are honored to present Congressman Young with the Champion of Public Broadcasting Award."
"It is a great honor to accept the Champion of Public Broadcasting Award from the Association of Public Television Stations," said Congressman Young. "My support for these essential services is simple. In a state as vast as Alaska, where nearly 75 percent of our communities are off the road system and served by stations critically dependent on federal funding, public broadcasting plays an essential role in the lives of many of our residents. For many of these small communities, commercial broadcasting is out of the picture and public broadcasting is often times the only viable option for sharing and relaying information. From up to date local and national news to life-saving weather reports, these are services my constituents and rural Americans across the country depend on each and every day. Even during these times of very serious budget concerns, I remain committed to those who rely on public broadcasting."
Congressman Don Young was re-elected to the 113th Congress in 2012 to serve his 21st term as Alaska's only Representative to the United States House of Representatives. First sworn in as a freshman to the 93rd Congress after winning a special election on March 6, 1973, Congressman Young is today the 1st ranking Republican member and the 4th ranking overall member of the House of Representatives.
In the 112th Congress, Congressman Young was chosen to serve as the Chairman for the Subcommittee on Alaska Native and Indian Affairs. He currently serves as a senior Republican on the House Transportation and Infrastructure Committee, and House Natural Resources Committee.
Congressman Young calls Fort Yukon, Alaska home; a remote village of approximately 700 people located 7 miles above the Arctic Circle in Alaska's central interior region. Born on June 9, 1933 in Meridian, California, he earned his associate degree at Yuba Junior College in 1952, and his bachelor's degree in teaching at Chico State College in 1958. Between earning these degrees, he served in the US Army's 41st Tank Battalion from 1955 to 1957.
Congressman Young first entered public service in 1964 when he was elected Mayor of Fort Yukon. Two years later, Alaskan voters elected him to the State Legislature in Juneau where he served in the State House from 1966 to 1970, and later in the State Senate from 1970 to 1973. Just hours after being sworn in to United States House of Representatives in 1973, he found himself leading the historic battle for approval of the Trans-Alaskan Pipeline. Often citing this as the single most important achievement in his career, Congressman Young stated, "Next to statehood itself, the most historical legislation passed that affected every Alaskan then, now, and in the future, was the passage of the pipeline legislation."
The Champion of Public Broadcasting Award was presented to Congressman Young during The APTS Public Media Summit on Monday, February 24. Watch the presentation here.
About APTS
The Association of Public Television Stations (APTS) is a nonprofit membership organization established in 1979. The mission of APTS is to conduct – in concert with member stations – advocacy, planning, research, communications and other activities that foster a strong and financially sound public television system providing essential public services to all Americans. Its affiliate APTS Action, Inc. promotes the legislative and regulatory interests of noncommercial television stations at the national level through direct advocacy and through grasstops and grassroots campaigns designed to garner bipartisan congressional support. For more information, visit www.apts.org.
###