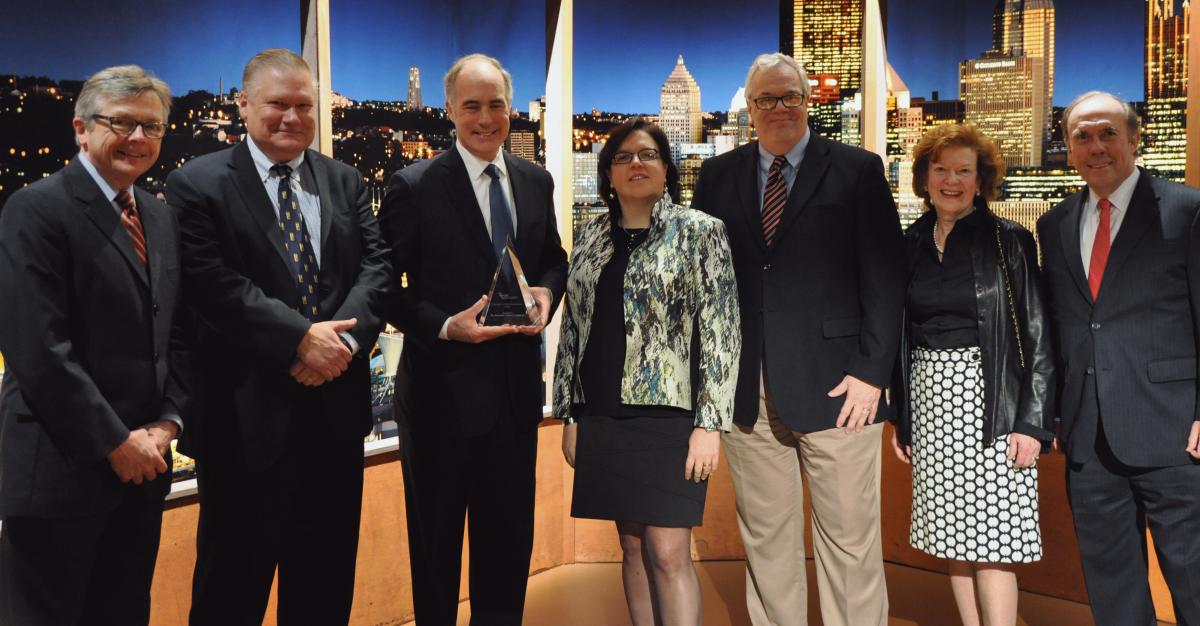 L-R: Tom New, WQLN Public Media/Erie; Tim Fallon, WLVT-TV/Bethlehem;
Senator Robert P. Casey, Jr.; Deborah L. Acklin, WQED Multimedia/Pittsburgh;
Greg Peterson, WPSU-TV/State College; Peggy Morgan, Board Chair, WPSU; Patrick Butler, APTS.

PITTSBURGH – April 1, 2016 – America's Public Television Stations (APTS) today presented its Champion of Public Broadcasting Award to Senator Robert P. Casey, Jr. (D-PA).
The Champion of Public Broadcasting Award is given to political leaders and other individuals who safeguard the ability of local public television stations to provide education, public safety and civic leadership services to their communities.
"The Ready To Learn program has helped public television get millions of preschool children ready to succeed in school and in life," said APTS president and CEO Patrick Butler, "and no one did more than Senator Bob Casey of Pennsylvania to ensure the preservation of this program as Congress moved toward passage of the Every Student Succeeds Act in 2015. He authored an amendment to continue the program and won unanimous support for it in the Senate Health, Education, Labor and Pensions Committee as it considered the reauthorization of the Elementary and Secondary Education Act. It's particularly fitting that Senator Casey represents Pennsylvania, also the home of public television's iconic Mister Rogers and his friend Daniel Tiger, who symbolize public television's 40-year commitment to early childhood education and development.
"Thanks to Senator Casey, public television's high-quality educational content will continue to be available to America's youngest citizens, on the air, online and in mobile applications, and on-the-ground where parents, teachers and caregivers can help kids make the most of this marvelous content. It is our great honor to present the Champion of Public Broadcasting Award to Senator Bob Casey of Pennsylvania, who has richly earned it."
"I am grateful to be presented the Champion of Public Broadcasting Award," Senator Casey said. "As a leader, it is my job to serve, advocate and communicate on behalf of the people of my great state of Pennsylvania as well as continually educate myself on new and growing issues that my constituents may be facing. APTS gives me and other leaders an outlet to speak directly to those we represent to do just that. Working together, we were able to make progress in passing the Every Student Succeeds Act to help ensure that our most valuable resources, our children, are receiving the support and education they deserve."
Senator Robert P. Casey, Jr. is Pennsylvania's senior senator. He works every day on behalf of Pennsylvania families, fighting to create jobs, advocating for the education and well-being of children, and pursuing a national security strategy that protects our interests and supports those who serve our country. He serves on five committees including the Senate Finance Committee and Senate HELP Committee.
Senator Casey and his wife Terese have four daughters and live in Scranton.
The Champion of Public Broadcasting Award was presented to Senator Casey at WQED in Pittsburgh on Friday, April 1, 2016.
About APTS
America's Public Television Stations (APTS) is a nonprofit membership organization established in 1979. The mission of APTS is to conduct - in concert with member stations - strategic planning, research, communications, advocacy and other activities that foster a strong and financially sound public television system providing essential public services to all Americans. Its affiliate APTS Action, Inc. promotes the legislative and regulatory interests of noncommercial television stations at the national level through direct advocacy and through grasstops and grassroots campaigns designed to garner bipartisan political support. For more information, visit www.apts.org.
###