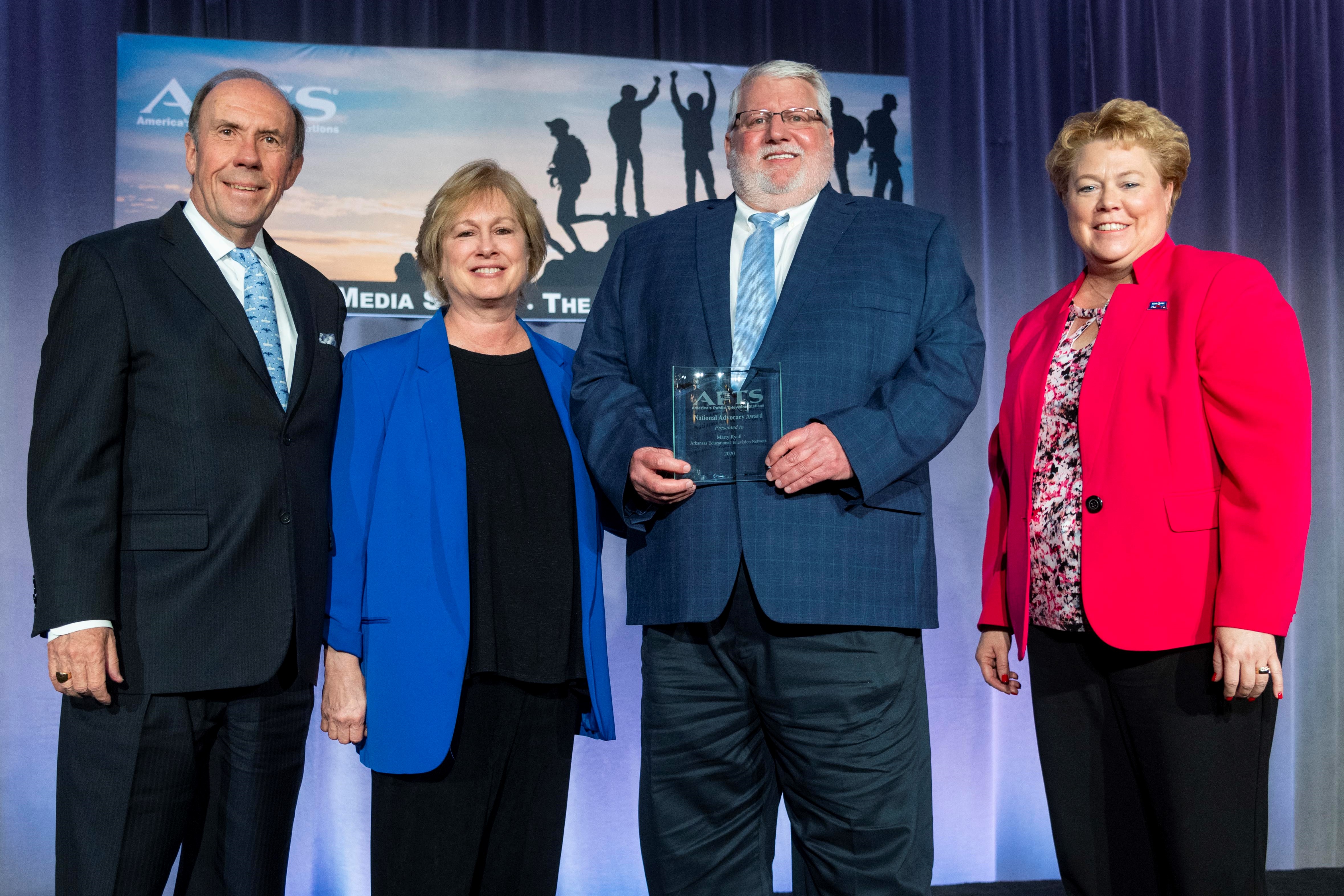 (L-R: Patrick Butler; President and CEO, APTS; Courtney Pledger, Executive Director,
Arkansas PBS; Marty Ryall, Director of External Relations, Arkansas PBS; and
Molly Phillips, Executive Director and General Manager, Iowa PBS)
WASHINGTON – February 25, 2020 – America's Public Television Stations (APTS) today presented the 2020 National Advocacy Award to Marty Ryall, Director of External Relations at Arkansas PBS, for his work in building relationships and support for public broadcasting within the Arkansas congressional delegation and state Legislature.

The APTS National Advocacy Award is presented to station leaders who excel in telling the story of their local station's work in education, public safety and civic leadership and how federal and state funding make that work possible.

"Marty Ryall is the gold standard of effective congressional outreach – a tireless advocate for public broadcasting, helping to strengthen our ever-growing bipartisan support in Congress," said Patrick Butler, president and CEO of APTS. "With the support of Courtney Pledger, Executive Director and CEO of Arkansas PBS, Marty engages with federal and state lawmakers on a weekly basis, providing relevant information about the essential education, public safety and civic leadership services Arkansas PBS provides. Marty's work ensures that key decisionmakers know about Arkansas PBS's exemplary services, along with the recognition that federal and state funding are essential to this work. In addition, Marty played an important role establishing the Arkansas Citizens Access Network (AR-CAN), providing C-SPAN-like coverage of state government meetings and enhancing the connection between Arkansans and their state government. We're grateful for the support of members of the Arkansas congressional delegation and state Legislature, and to Marty who has been central to cultivating that support. We are honored to present Marty Ryall with the National Advocacy Award he so richly deserves."

"I want to thank APTS – I am truly humbled to receive this recognition, and I accept the 2020 National Advocacy Award on behalf of the entire Arkansas PBS team," Ryall said. "At Arkansas PBS we tell the local stories that no one else is telling. We are an essential resource in our communities, we are a megaphone to discuss and debate important issues, we help educate Arkansas's children, and we help keep families safe with our early warning system.

"In accepting this award, I want to acknowledge the dedication of my coworkers, the forward-thinking leadership of our director, Courtney Pledger, and the generous support of our governor, our members of Congress, our state lawmakers, our donors and the Corporation for Public Broadcasting, who together make it possible to deliver these indispensable services to Arkansas."

Ryall is in his fourth year at Arkansas PBS as the Director of External Relations. He serves as the station's liaison with federal, state and local officials, government agencies and community organizations. His frequent updates to the Arkansas congressional delegation, their staff, state legislators and community leaders keep them informed and current on Arkansas PBS's services to the state of Arkansas and its citizens.

"Marty is an invaluable member of our incredible Arkansas PBS team, helping us remain daily and essential in the lives of Arkansans as we nourish the cultural and civic life of our statewide community," said Pledger, Executive Director and CEO of Arkansas PBS. "His skill in communicating with key Arkansas constituents and his efforts on the Arkansas Citizens Access Network (AR-CAN) are vital tools in our increasing connection with our community. We deeply appreciate Marty's work."

Ryall helped create, and currently administers, the Arkansas Citizens Access Network (AR-CAN). This web-based platform livestreams state government meetings. Prior to its launch last year, board and commission meetings were only available to those attending in person. Today, Arkansans can watch the State Medical Board, Health Board, Highway Commission, Natural Resources Commission and many others, for the first time, from their home or work computers. This initiative helps foster trust and transparency within Arkansas government, and it provides an important service to the citizens of the state.

Prior to joining Arkansas PBS, Ryall spent almost 30 years in government, politics and campaigns, working in multiple states and in Africa. During his career, he managed several high-profile political campaigns across the country, including U.S. Sen. Elizabeth Dole in North Carolina, Gov. Ernie Fletcher in Kentucky, U.S. Sen. Paul Coverdell in Georgia and House Majority Leader Eric Cantor in Virginia. He also served as national deputy political director for Elizabeth Dole for president. Ryall has worked at both the national and state levels in party politics, including serving as a state party chairman in Arkansas.

Ryall's political experience also includes assisting with developing democracies in Africa. First serving as the in-country program director for Liberia, and later for Nigeria, both with the International Republican Institute (IRI). He returned multiple times, on IRI's behalf, for political party training and, on other occasions, as an international election observer.

Ryall is a native of Star City, Arkansas, and has a degree in international affairs from Florida State University.

The National Advocacy Award was presented to Ryall during the APTS Public Media Summit on Tuesday, February 25.
###
About APTS
America's Public Television Stations (APTS) is a nonprofit membership organization ensuring a strong and financially sound public television system and helping member stations provide essential public services in education, public safety and civic leadership to the American people. For more information, visit www.apts.org.

Contact:
Stacey Karp
202-654-4222
skarp@apts.org