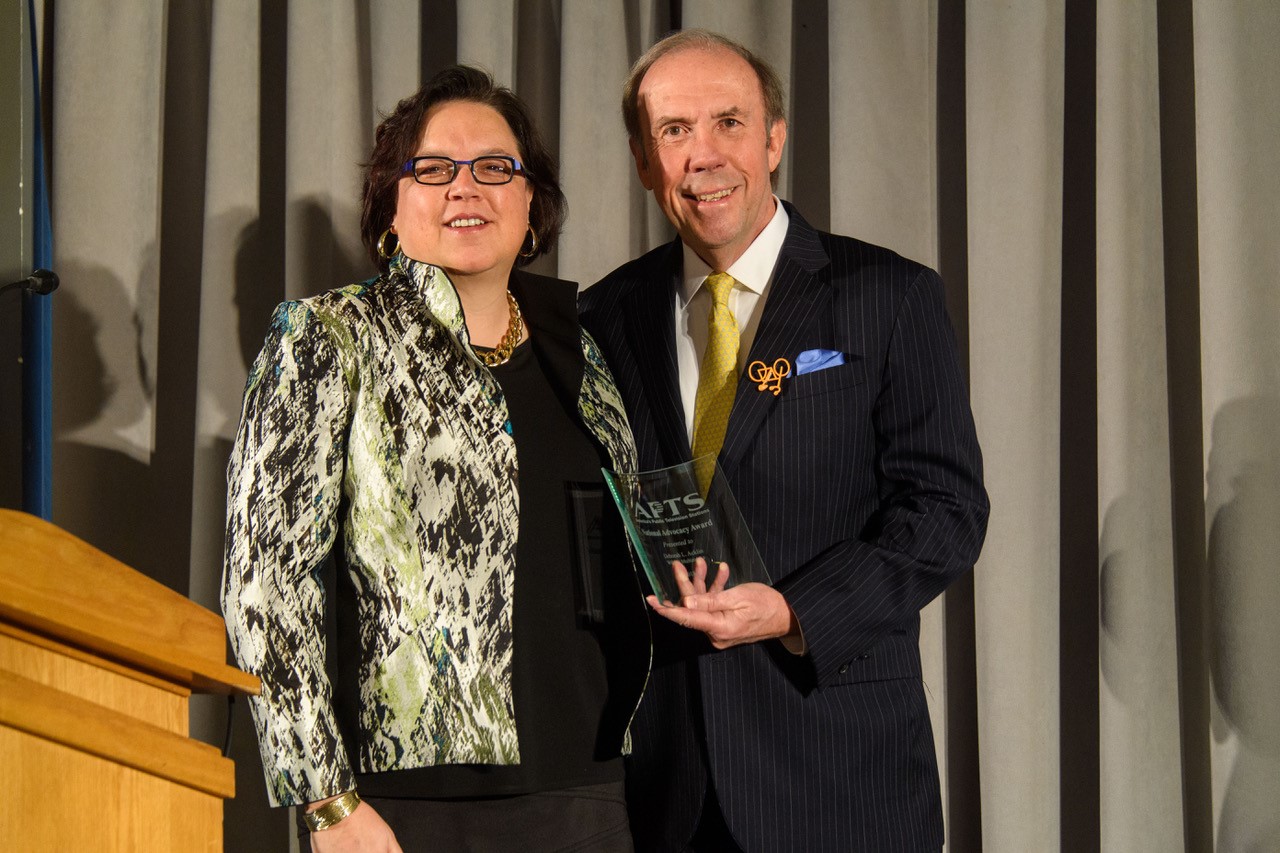 WASHINGTON – February 28, 2018 – America's Public Television Stations (APTS) today presented the 2018 National Advocacy Award to Deborah Acklin, president and chief executive officer of WQED Multimedia in Pittsburgh, Pennsylvania, for her exceptional efforts in furthering public television's legislative goals and marshaling local political support for public broadcasting.
"Deb Acklin is a tireless advocate for public broadcasting, helping to strengthen our ever-growing bipartisan support in Congress," said Patrick Butler, president and CEO of APTS. "Deb has been a particularly effective champion of our cause with the Pennsylvania congressional delegation, investing considerable time and energy in educating these leaders about our public service missions of education, public safety and civic leadership, and about the indispensable nature of the federal investment in our work.
"WQED has a rich tradition of such effective advocacy, beginning with Mister Rogers' historic congressional testimony 49 years ago that saved federal funding for public broadcasting in our infancy. Deb Acklin has carried that tradition forward most impressively, and we are honored to present her with this most well-deserved National Advocacy Award."
"It is truly an honor to be recognized by my peers on behalf of the work we all do every day to further the goals and mission of public television," said Ms. Acklin. "As the nation's first community-supported station, WQED was the model for what became public broadcasting, and that legacy is one that guides our mission. Ours is an industry that has had and continues to have bipartisan support. Legislators see the impact that public television and its educational and civic engagement mission has on the people they represent, and they realize that it is funding that is well spent and valued by their constituents."
Deborah Acklin is president and chief executive officer of WQED Multimedia in Pittsburgh, PA. WQED Multimedia is the nation's first community-owned public media company, also known worldwide as "Mister Rogers' station."
Deb has served in multiple executive roles in public broadcasting, the cable television industry and commercial broadcasting. At WQED Multimedia, she manages or has managed the operations, strategies and fundraising to create original multi-platform content distributed across five television channels, three radio signals, an interactive web-based learning channel, an interactive global media distribution portal, an education department, a publishing division, and PBS, NPR and their member stations.
Deb's tenure includes many achievements, including four Mid-Atlantic Emmy Awards for Station Excellence, given by the National Academy of Television Arts and Sciences to a general manager of a commercial or public television station in Pennsylvania, Delaware, West Virginia and New Jersey. She also helped launch the first public television channel in Bermuda (CTV).
The National Advocacy Award was presented to Deborah Acklin during The APTS Public Media Summit on Wednesday, February 28, 2018.
###
About APTS
America's Public Television Stations (APTS) is a nonprofit membership organization ensuring a strong and financially sound public television system that provides essential public services in education, public safety and civic leadership to the American people. For more information, visit www.apts.org.
Contact: Stacey Karp
202-654-4222
skarp@apts.org