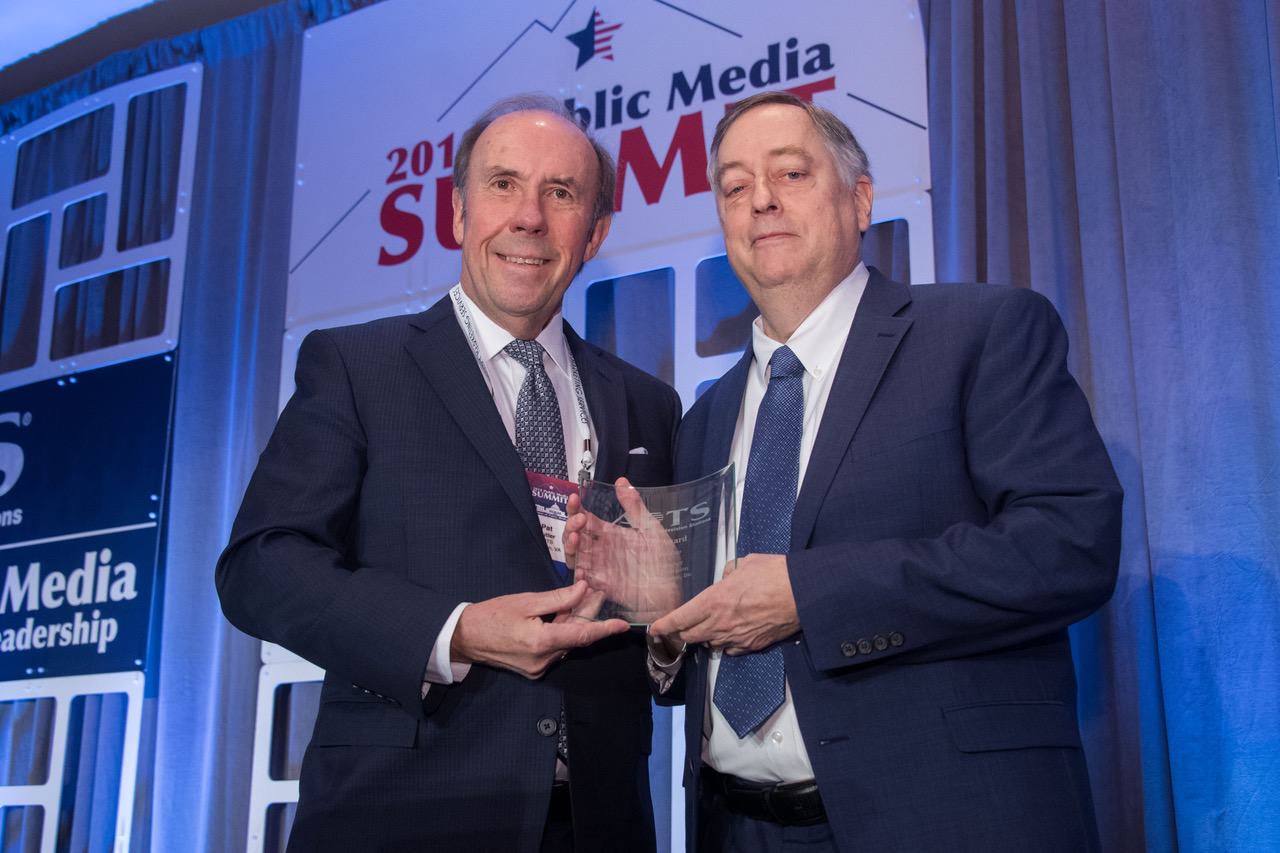 WASHINGTON - February 27, 2018 - America's Public Television Stations (APTS) today presented the 2018 EDGE Award for Excellence in Innovation to Mark Richer, president of the Advanced Television Systems Committee, Inc. (ATSC). The EDGE Award is presented to individuals, stations or institutions doing pioneering work in technology and other fields that promote progress in public television.

"I am delighted to present the 2018 EDGE Award to Mark Richer, president of the Advanced Television Systems Committee, Inc. (ATSC), for the successful and timely completion of the ATSC 3 broadcast standard," said Patrick Butler, president and CEO of APTS. "Under Mark's innovative leadership, the world's first Internet Protocol-based broadcasting system became a reality, and the Committee played an integral role in ensuring public television stations' post-auction channel repacking efforts can coincide with the voluntary, market-by-market implementation of the Next Generation broadcasting standard.

"ATSC 3 will revolutionize the television experience and enable extraordinary advances that will significantly improve local public television stations' ability to provide interactive, personalized education content and resources; enhanced public safety communications and interoperability capabilities for law enforcement; and additional local programming of value to communities, including coverage of state government. This EDGE award is richly earned, and we congratulate Mark and his colleagues at ATSC for a job remarkably well done."

"More than 400 people contributed their expertise over the past five years to create ATSC 3.0 - the next generation in broadcast television," said ATSC President Mark Richer. It's my great honor to accept this award on their behalf, since any standards organization is only as effective as those who share their passion and innovations with the industry. Completion of the ATSC 3.0 suite of standards represents a milestone, but it's not the end. It's only the beginning of a new era in television broadcasting, and one that will spur public broadcasters to innovate in new ways to serve their audiences."

Mark S. Richer is the president of the Advanced Television Systems Committee, Inc. (ATSC). The ATSC is an international, nonprofit organization developing voluntary standards for digital television including the ATSC 3 suite of standards for next generation television.

Richer first joined the ATSC after 16 years with the Public Broadcasting Service (PBS) where, as vice president of engineering & computer services, he was responsible for development of new technologies for PBS and its member stations, design of audio/video systems and management of information technology operations. He was instrumental in the development of technological innovations, including the Line 21 closed captioning for the deaf system for which PBS was awarded an Emmy for Engineering Development. He was also responsible for the selection and implementation of digital video compression and transmission technology and led PBS efforts in the area of digital and high definition television.

Richer served as vice president & general manager of CDS, a division of Thomcast Communications. He was also responsible for marketing, communications, strategic planning and business development for Thomcast Communications, including its Comark and Comwave subsidiaries.

Richer was the 2010 recipient of the National Association of Broadcasters Engineering Achievement Award for Television and a recipient of Broadcast & Cable's Technology Leadership Award in 2007. He is a fellow of the Society of Motion Picture and Television Engineers (SMPTE), a senior member of the Institute of Electrical and Electronics Engineers (IEEE), serves on the FCC Technology Advisory Council and has a Bachelor of Science degree from the Rochester Institute of Technology.

The 2018 EDGE Award was presented to Mark Richer during the APTS Public Media Summit on Tuesday, February 27, 2018.
###
About APTS
America's Public Television Stations (APTS) is a nonprofit membership organization ensuring a strong and financially sound public television system that provides essential public services in education, public safety and civic leadership to the American people. For more information, visit www.apts.org.
Contact: Stacey Karp
202-654-4222
skarp@apts.org