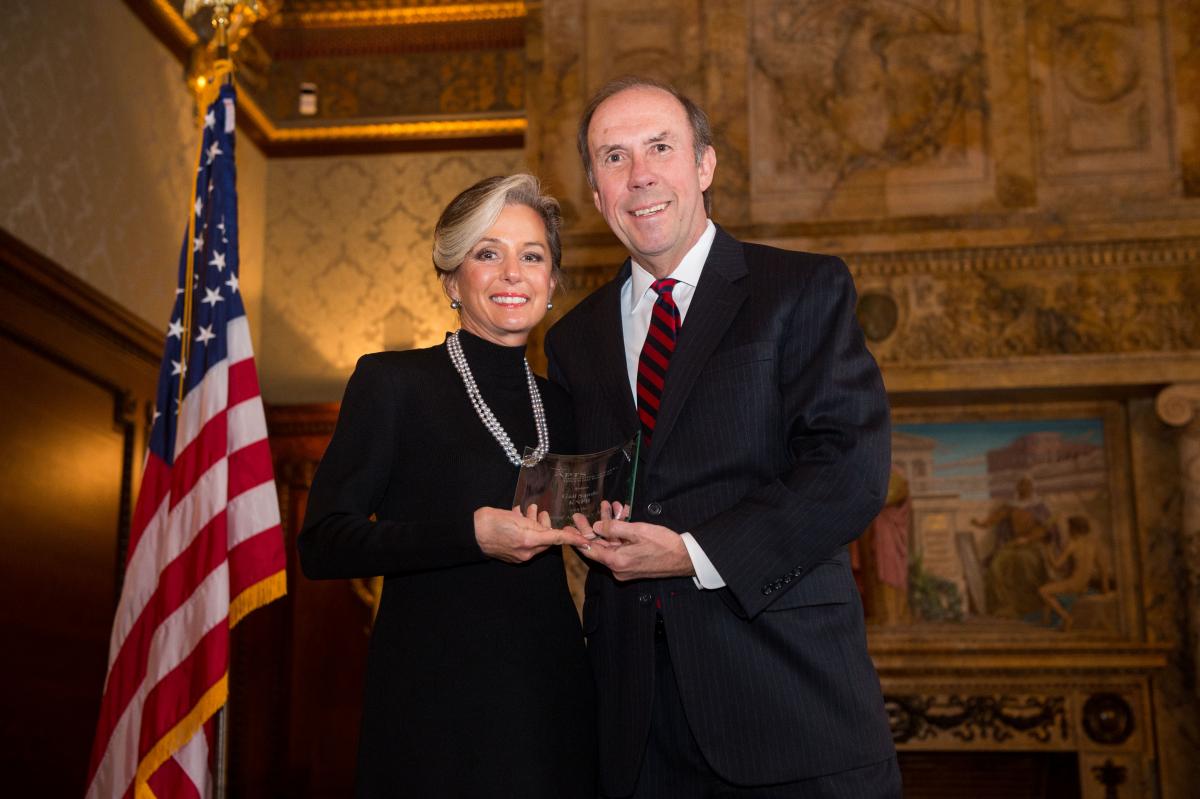 WASHINGTON — February 25, 2014 — The Association of Public Television Stations (APTS) today presented Gail Sande, Member of the Board of Trustees, KNPB Public Broadcasting, with the 2014 National Advocacy Award for her exceptional efforts in furthering public television's legislative goals.
"Gail is a tireless advocate for public broadcasting, helping to advance bipartisan support of public broadcasting in Congress," said Patrick Butler, president and CEO of APTS. "She has demonstrated tremendous effectiveness on both sides of the Hill and both sides of the aisle, from securing the support of Rep. Mark Amodei (R-NV) for the restoration of funding for public broadcasting's critical infrastructure program to her excellent relationship with Senator Majority Leader Reid (D-NV), one of public television's true champions. We are extremely grateful for Gail's work on behalf of public broadcasting, and we are honored to present her with The National Advocacy Award she so richly deserves."
Gail Sande is a Member of the Board of Trustees for KNPB Public Broadcasting in Reno, NV, and serves as Chair of the Resource and Governance Committee. She is also the immediate past Chairman of the Board and stepped down after serving in that position for three years. She is a Trustee of the National Association of Public Television Stations. Ms Sande currently serves on the Nevada State Board for the Humanities, and is a board member for the First Tee of Northern Nevada and the American Heart Association.
Ms. Sande has been actively involved in the Reno community for the past 37 years, dedicated to making Reno not only the "Biggest Little City in America," but the "Best Little City" to live in. Some of her activities have included serving as Vice President and Development Chairman for the Lear Theater, a member of the Reno Tahoe Young Professional Network Advisory Board, Treasurer of Young Audiences, President of the Roy Gomm Parent Facility Association, Treasurer of the Sons of Norway, President of Law Wives and Director of Community Relations for the Assistance League of Reno/Sparks
Ms. Sande graduated from the University of Nevada at Reno with a B.A. in 1971, and was an Operations Officer at First National Bank of Nevada until 1977, when she retired from the business world to be a stay-at-home mom and community activist.
"I am very honored to be receiving this award," said Gail Sande. "Throughout my years of service, I have been very committed to public television and its mission. Public television serves to connect people. It connects children and people of all ages to education, teachers to educational content, it brings in-depth unbiased news coverage to millions of viewers. PBS takes people to exciting places, entertains us with great performances and it does this all with just a click of a button. Every day PBS inspires people to see and be more, and I am very proud to be a part of it."
The National Advocacy Award was presented to Gail Sande during The APTS Public Media Summit on Tuesday, February 25.
About APTS
The Association of Public Television Stations (APTS) is a nonprofit membership organization established in 1979. The mission of APTS is to conduct – in concert with member stations – advocacy, planning, research, communications and other activities that foster a strong and financially sound public television system providing essential public services to all Americans. Its affiliate APTS Action, Inc. promotes the legislative and regulatory interests of noncommercial television stations at the national level through direct advocacy and through grasstops and grassroots campaigns designed to garner bipartisan congressional support. For more information, visit www.apts.org.
###