WASHINGTON - October 20, 2016 – America's Public Television Stations (APTS) commended public broadcasting stations and emergency services for today's successful Great California ShakeOut, which tested the emergency alert system and helped Californians get prepared and stay safe in the event of an earthquake.
Sacramento's public television station KVIE stepped into the future of disaster public warning systems today as part of the largest earthquake drill ever. At precisely 10:20 a.m. PT, millions of Americans around the country as well as people in Japan, British Columbia, Guam and Puerto Rico practiced a lifesaving maneuver: "Drop, Cover and Hold On!" The Great ShakeOut is an annual training event that originated in California and now has spread nationwide as well as to Italy, New Zealand and Japan.
KVIE took the ShakeOut a step further by activating advanced digital datacast technology to deliver simulated earthquake warning alerts instantaneously. Today was the kickoff of a month-long experiment at KVIE being monitored by the California Governor's Office of Emergency Services, the Federal Communications Commission and the Department of Homeland Security's (DHS) Science and Technology Directorate. Two private firms, Triveni Digital and Monroe Electronics, loaned the station extra equipment to make this in-depth study of datacasting possible.
Datacasting is the process of delivering internet protocol (IP) data over a traditional digital public broadcast television signal, including instantaneous alerts, combined with evacuation maps and even live video.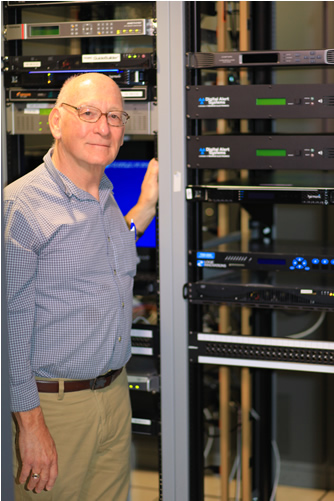 Mike Cappi, Director of Technology, KVIE Public Television
Datacasting equipment at KVIE
"We're excited that KVIE and America's Public Television Stations are on the front lines of harnessing and testing promising new technologies to help deliver critical public alerts and warnings in California," said Art Botterell, the coordinator of the alert and warning program at the Governor's Office of Emergency Services. "This is a great example of an important public-private partnership that's focused on improving our state and local public safety capabilities."
"The test delivering the simulated alerts went very smoothly today," said Mike Cappi, Director of Technology, KVIE. "In the next phase the test will measure the speed and coverage of alerts digitally encoded into KVIE's high power television transmission. Warnings used to be a matter of seconds or minutes, but when there are natural disasters like earthquakes, saving a fraction of a second in delivering a warning can make a huge difference."
"America's Public Television Stations are extremely proud that public television and radio stations are partnering with emergency services in today's Great California ShakeOut," said Patrick Butler, president and CEO of APTS. "This work is part of public broadcasting's larger public service mission, including the APTS strategic partnership with DHS, to promote the use of public safety datacasting as an effective component to alert and protect the American people. We congratulate everyone involved in today's successful earthquake alert test. Public television has once again demonstrated its capability to be an important partner in public safety, and we look forward to working with emergency alert agencies in California and around the country to convey more life-saving information more quickly to more people through our pioneering public safety datacasting service."
About APTS
America's Public Television Stations (APTS) is a nonprofit membership organization ensuring a strong and financially sound public television system and providing essential public services in education, public safety and civic leadership to the American people. For more information, visit www.apts.org.
###