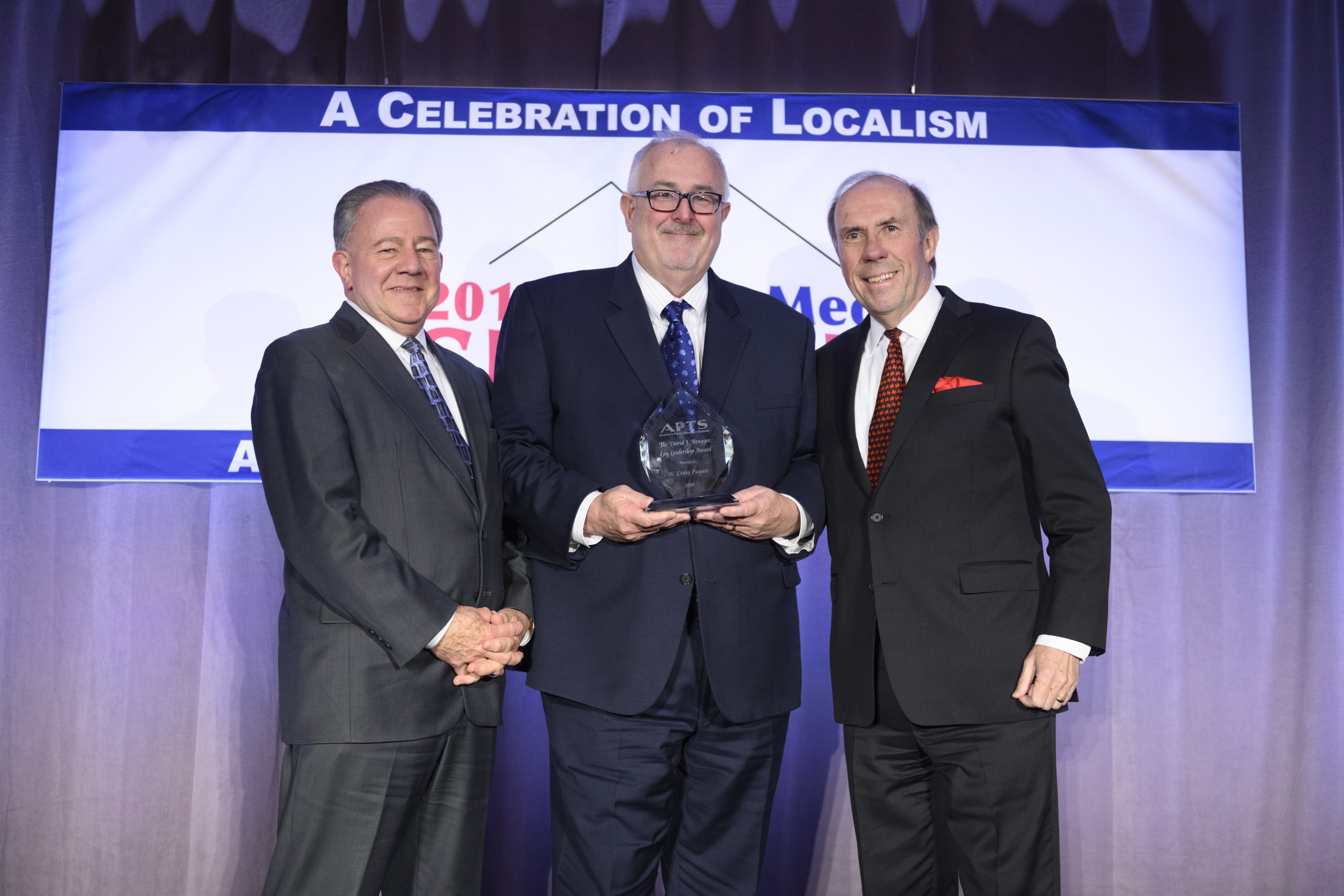 L-R: David Brugger, W. Craig Fugate and Patrick Butler
WASHINGTON - February 26, 2019 - America's Public Television Stations (APTS) today presented the David J. Brugger Lay Leadership Award to former FEMA Administrator W. Craig Fugate for his work in promoting the public safety mission of local public television stations.

Since joining the APTS board in 2017, Mr. Fugate has played an active role in matching public safety needs with public television's datacasting capability. These use cases include early earthquake warning, wildfire tracking, disaster response, large-scale crowd control, school shooting scenarios, and over-water emergency communications, among others.

"After eight years as FEMA Administrator under President Obama, following eight years as Florida Emergency Management Director under Governor Jeb Bush, Craig Fugate knows more about public safety and emergency management than anyone else in America," said Patrick Butler, president and CEO of APTS. "He also knows that public television stations can play a critical role in keeping our citizens and our country safe.

"As America's public television stations continue to enhance their services in public safety communications, Craig has played a vital role in connecting our stations with the public safety community throughout America," Butler said. "We are immensely grateful for his expertise, commitment and leadership, and we are honored to present the David J. Brugger Award to Craig Fugate, who profoundly deserves it."

"It's critical that we raise awareness of public television's role in public safety and community warnings during emergencies," said Fugate. "As one of public television's pillars of public service, public safety is a cornerstone of local public TV stations mission to their community. I am honored to receive the David J. Brugger Lay Leadership Award."

W. Craig Fugate served as President Barack Obama's FEMA Administrator from May 2009 to January 2017. Previously, he served as Florida Governor Jeb Bush's Emergency Management Director from 2001-2009.

Fugate led FEMA through multiple record-breaking disaster years and oversaw the Federal Government's response to major events such as the Joplin and Moore Tornadoes, Hurricane Sandy, Hurricane Matthew, and the 2016 Louisiana flooding. Fugate set a clear and compelling vision, mission, and priorities for FEMA and relentlessly drove the Agency to achieve better outcomes for survivors.

FEMA's effectiveness in dealing with more than 500 Presidentially-declared major disasters and emergencies under Fugate's leadership restored the faith of the American people in the Federal Government's ability to respond to disasters.

Prior to his service in the Obama Administration, Fugate served as Florida's Emergency Management Director under Governor Jeb Bush. As the State Coordinating Officer for 11 Presidentially-declared disasters, he managed more than $4 billion in Federal disaster assistance.

In 2004, Fugate managed the largest Federal disaster response in Florida history as four major hurricanes - Charley, Frances, Ivan and Jeanne - impacted the state in quick succession.

In 2005, Florida was again affected by major disasters when three more hurricanes - Dennis, Katrina, and Wilma - made landfall in the state. The impact from Katrina was felt more strongly in the Gulf coast states to the west, but Florida launched the largest mutual aid response in its history in support of those states.

Under Fugate's stewardship, Florida's emergency management program became the first statewide program in the nation to receive full accreditation from the Emergency Management Accreditation Program.

In 2016, Fugate was the National Emergency Management Association (NEMA) Lacy E. Suiter Award honoree for lifetime achievements and contributions in the field of emergency management.

The APTS board of trustees created the David J. Brugger Lay Leadership Award in honor of its former president and CEO, David Brugger, the longest-serving leader of the organization.

The 2019 David J. Brugger Lay Leadership Award was presented to Craig Fugate during the APTS Public Media Summit on Tuesday, February 26, 2019.
###
About APTS
America's Public Television Stations (APTS) is a nonprofit membership organization ensuring a strong and financially sound public television system and helping member stations provide essential public services in education, public safety and civic leadership to the American people. For more information, visit www.apts.org.
Contact:
Stacey Karp
202-654-4222
skarp@apts.org