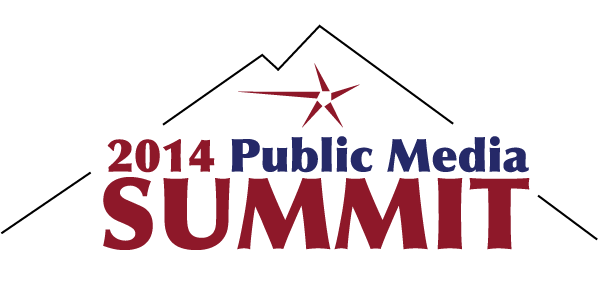 The Association of Public Television Stations (APTS) held The 2014 Public Media Summit on February 23-25, 2014, at the Fairmont Washington, DC, Georgetown in Washington, DC. The 2014 Summit celebrated the 35th anniversary of the Association, and its theme was "A Spectrum of Service: Education, Public Safety and Citizenship."
As always, the Summit featured presentations and discussions on the most important issues facing public service media today and tomorrow, including prospects for federal funding, challenges and opportunities in the FCC spectrum auction proceeding, a special look at the future of broadcast technology, new strategies for service and growth in our industry, and more. The 2014 Summit also featured some very special guest speakers from the worlds of politics and media.
Click on the links below to watch the videos and view the presentations made during The Summit.

SUNDAY, FEBRUARY 23
General Session
1:30 p.m. – 3.45 p.m.
Welcome to The 2014 Public Media Summit and the 35th Anniversary of APTS. Opening remarks were made by Polly Anderson, APTS Board Chair, to kick off The 2014 Public Media Summit.
Highlights of the last 35 years included special guest, Bruce Christensen, 2nd President and CEO of APTS and longest-serving President of PBS.
A Spectrum of Service: Education, Public Safety and Citizenship was the theme of The 2014 Public Media Summit.
The panel on public safety included: Damon Penn, Assistant Administrator, Federal Emergency Management Administration (FEMA) and Charles Murph, Assistant Director, State of Alabama Law Enforcement Agency.
The panel on education included: Dr. Terry Holliday, Commissioner of Education, the Commonwealth of Kentucky, and President of the Council of Chief State School Officers; and Nancy Carpenter, Senior Director for Education, KET in Kentucky. Moderating the panel will be Hilma Prather, APTS Board Member and member of the Kentucky Authority for Educational Television, the governing board of KET.
Governor Mike Pence, Republican of Indiana, explored public television's treatment of its viewers as citizens rather than consumers, and explained why he recommended State funding for public television for the first time in eight years in the Hoosier State.
Concurrent Sessions (Closed to Press)
4:15 p.m. – 5:30 p.m.
Lay Leaders Session - Cait Beroza, Advocacy & Social Media Manager, APTS; Stacey Karp, Director, Communications, APTS; Jennifer Kieley, Director, Government Relations, APTS; and Kate Riley, Director, Government Relations, APTS
Leadership Council Members and lay leaders had an opportunity to hear an update on the Leadership Council's work and the Protect My Public Media grassroots campaign. This was a great way for lay leaders to network, ask questions about meeting with their federal lawmakers and discuss their stations' work addressing local community needs.
General Managers and Station Staff Session - Lonna Thompson, Executive Vice President, Chief Operating Officer and General Counsel, APTS, and Ted Krichels, SVP, System Development and Media Strategy, CPB.
GMs and station staff had the opportunity to hear the findings from the recent study on spectrum by Booz & Company commissioned by CPB, and engaged in a discussion with station colleagues about spectrum uses, the auction and repacking.
Dinner
7:00 p.m. – 9:00 p.m.
Our friends in Japanese public broadcasting gave us their perspective on public service media and the future of broadcasting. Ms. Minori Takao, host of Asia This Week, was the special guest speaker for the evening.
Sponsored by NHK WORLD TV
Please take a moment to watch the video this session.

MONDAY, FEBRUARY 24

Breakfast Session – Reimagining Radio with Kinsey Wilson, Chief Content Officer, NPR
8:00 a.m. – 9:15 a.m.
Kinsey Wilson explained how NPR and NPR Member Stations are expanding public radio's ability to deliver in-depth coverage of news and culture – while reimagining the public radio experience for digital listening. Kinsey discussed the latest on NPR's newest "verticals" – education; global health and development; and race, ethnicity and culture. And he also talked about the creation of a seamless local-national listening platform expected to launch this Spring that will help deliver the work of NPR and stations to tens of millions of Americans everywhere they want it, in words, images and sound.
Sponsored by NPR
Please take a moment to watch the video and view the PowerPoint presentation of the NPR breakfast session.
General Session
9:30 a.m. – 10:30 a.m.
APTS held its Annual Membership Meeting and introduced the new members of the APTS and APTS Action, Inc. Boards.
Patrick Butler, President and CEO of APTS, shared his vision of the future of public media.
General Session (Closed to Press)
11:00 a.m. – 12:00 p.m.
Jennifer Kieley, Director, Government Relations, APTS, and Kate Riley, Director, Government Relations, APTS provided a dynamic presentation of the public television issues that are front and center in Washington, D.C.
Please take a moment to watch the video and view the PowerPoint presentation of this legislative session.
Lunch Session
12:30 p.m. – 2:15 p.m.
This lunch session included CPB President and CEO Pat Harrison and special guests Senator Susan Collins (R-ME) and award-winning filmmaker Ken Burns.
Senator Collins was honored with the CPB Thought Leader Award, which is given to leaders who affirm the essential value provided by public media to the American people.
Ken Burns gave us a preview of his film "The Address." "The Address," funded as part of the American Graduate initiative, showcases students with learning challenges from a small school in Putney, Vermont who memorize and recite the Gettysburg Address every year for an audience of parents. The program also featured a video message from some "friendly neighbors" that live on a very special public media street.
Sponsored by CPB
General Session
2:30 p.m. – 3:45 p.m.
This session included an extraordinary opportunity to hear from all five members of the Federal Communications Commission on the future of spectrum auctions, public broadcasting and media in general.
We were honored to welcome FCC Chairman Tom Wheeler (by video) and Commissioners Mignon Clyburn, Jessica Rosenworcel (by video), Ajit Pai and Mike O'Rielly.
APTS Future of Media Task Force advisor Anne Schelle, Venture Partner, Acta Wireless, moderated this discussion with APTS COO Lonna Thompson.
This year's David J. Brugger Lay Leadership Award was presented to APTS Board Vice-Chair Edmund Driggs.
Legislative Consultants Panel (Closed to Press)
4:15 p.m. – 5:30 p.m.
We presented a Champion of Public Broadcasting Representative Don Young (R-AK).
The APTS Action, Inc. legislative consultants led a discussion about the current political environment for public media.
Panelists included:
J. Keith Kennedy, Senior Public Policy Advisor, Baker Donelson
The Honorable Steve LaTourette, President, McDonald Hopkins Government Strategies
Danica Petroshius, Principal, Penn Hill Group
Domenic Ruscio, Partner, Cavarocchi Ruscio Dennis Associates
Dinner Event
Children's Educational Media Matters: Why public media is essential for school readiness.
6:30 p.m. – 8:30 p.m.
As the national conversation turns towards the critical role of early childhood education, PBS President Paula Kerger discussed new findings outlining the importance parents place on public media for help preparing children for school. This was followed by a discussion with Pat Butler, Pat Harrison and Linda O'Bryon.
Sponsored by PBS

TUESDAY, FEBRUARY 25
Breakfast Program – Members Room, Thomas Jefferson Building, Library of Congress
8:00 a.m. - 9:00 a.m.
The breakfast on the Hill included a presentation of our first-ever Lifetime Achievement Award to Senator Tom Harkin (D-IA), a Champion of Public Broadcasting Award to Senator Jay Rockefeller (D-WV) and our station Advocacy Awards to Gail Sandee of KNPB in Reno, NV and Dorothy Pacella of Friends of THIRTEEN in New York, NY. We also heard from one of public television's most powerful and articulate supporters, Congressman Earl Blumenauer (D-OR), as we prepared for Capitol Hill Day.
Sponsored by CARS