Stacey Karp
Director, Communications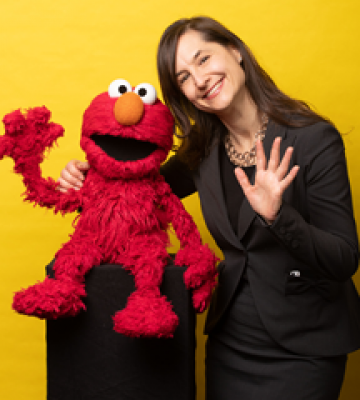 Stacey Karp is the Director of Communications of APTS. She joined the organization in September 2009. Stacey manages a wide range of communications, public relations and online media activities that advance public television's legislative and regulatory objectives. Stacey directs and cultivates all contact with media representatives, responding to inquiries about APTS's work to advance policies and initiatives on behalf of local public television stations. She develops various communications materials, including e-newsletters, press releases, fact sheets, talking points and media advisories, and oversees the organization's website strategy and execution. Stacey directs the What Works toolbox, a how to guide to better service and more revenue for America's public television stations. What Works showcases case studies at public television stations that align with public television's three pillars of public service — education, public safety and civic leadership — as well as state funding.
Stacey previously directed the Protect My Public Media grassroots advocacy campaign, in partnership with NPR. She worked with NPR to lead, coordinate and direct all aspects of the campaign with and for all local public television and radio stations, national partners and producers. Stacey provided leadership in creating and disseminating clear and consistent messages to campaign partners, as well as citizen advocates, through multiple tools, including a dedicated campaign website, email communication, social media, television and radio spots, web tiles and mobile alerts. She serves as one of the media contacts for all national media, as well as assists local stations as they coordinate efforts with their local media.
In November 2012, Stacey received an Honorable Mention from PR News as PR Professional of the Year: Nonprofit/Association. The PR News' PR People Awards showcase the innovators and leaders of the public relations profession. Stacey was selected as a finalist for this award for her role in leading 170 Million Americans for Public Broadcasting - the grassroots advocacy campaign for public broadcasting which is now called Protect My Public Media.
Stacey oversaw the redesign of the APTS website, providing not only an overhaul of the look and feel of the website, but the architecture of the site. The newly designed website allows all of the APTS's stakeholders – public television member stations, members of the media, policy makers and the general public – to easily find the valuable information they need about public television. Stacey develops policies and procedures which govern the maintenance of the website, ensuring its content is current and presented in a visually pleasing way.
Prior to joining APTS, Stacey served as the Director of External Affairs for San Francisco-based KQED Public Media, KTEH Public Television and KQET Public Television, where she managed government relations and community affairs. Stacey maintained and cultivated productive relationships with elected public officials, government agencies, community partners and other organizations throughout Northern California. She was also the lead liaison to special groups and partnerships in regards to promotion and community engagement activities.
Stacey was born and raised in Ann Arbor, Michigan. She graduated from the University of Wisconsin-Madison with a Bachelor's Degree in Sociology and a Certificate in Women's Studies. Stacey lived in San Francisco for 13 years before moving to Washington D.C. in 2009.