Leo A. Brooks, Jr.
At-Large Trustee, Washington, D.C.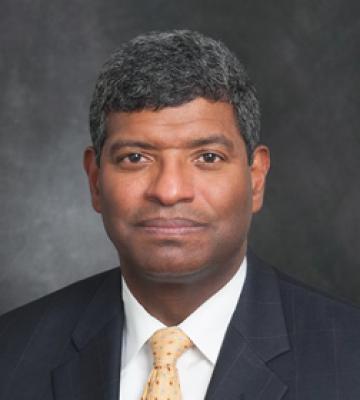 Leo A. Brooks, Jr. is Vice President, Enterprise Subsidiary Integration, Government Operations, for The Boeing Company in Washington, D.C. In this capacity, he has responsibility to ensure optimal enterprise integration of Boeing subsidiaries, joint ventures, and investment partners for Government Operations as well as to leverage government, community and enterprise resources to empower subsidiaries' achievement of business goals and objectives. Through the alignment of public policy priorities at the federal, state and local levels, Enterprise Subsidiary Integration enables growth of subsidiaries and partners.

Prior to this latest assignment, Brooks was Vice President, Defense, Space and Security, for The Boeing Company's Government Operations in Washington, D.C., and served as the company's Senior Corporate Liaison with the Pentagon, NASA and the Department of Homeland Security. From 2006 to 2009, he served as Vice President, Army Systems.

Brooks joined the company in August 2006, after serving in the United States Army for 27 distinguished years and retiring as a brigadier general. He commanded units in virtually every echelon of the Army including an Airborne Brigade in the famed 82nd Airborne Division, Deputy Commanding General of 1st Armored Division in Germany, and Commandant of Cadets at the United States Military Academy. His last assignment prior to retiring was Vice Director of the Army Staff, Office of the Chief of Staff, in the Pentagon. In that capacity, he was the Principal Deputy to the Director of the Army Staff, responsible for integrating, coordinating, and synchronizing the efforts of the Army staff to support Army and Combatant Commands in the global war on terrorism.

Brooks holds a Bachelor of Science Degree from the United States Military Academy and a Master's Degree in Public Administration from the University of Oklahoma. He is a Senior Fellow of the Syracuse University, Maxwell School of Government, National Security Studies Program and was awarded an Honorary Doctorate of Laws from the New England School of Law. He served as the Executive in Residence for the Earl G. Graves School of Business and Management Honors Program at Morgan State University from 2014 - 2016. Brooks also served as a member of the Board of Trustees of Norwich University for eight years and is currently on the Board of Directors of the District of Columbia College Access Program, the National Defense Industrial Association and the Advisory Board of Directors of the Association of the United States Army. Brooks is also a Member of the Council on Foreign Relations.