William J. Jones
Lay Trustee, Kentucky Educational Television (KET), Lexington, Kentucky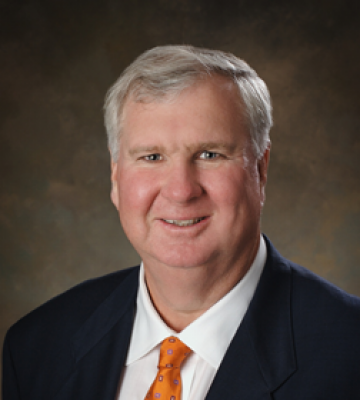 William J. Jones, with almost 30 years of service, is a Community Banking Division Manager for the East Central and Lower Midwest divisions within U.S. Bank. Headquartered in Paducah, Kentucky, Mr. Jones is responsible for all community banking operations in Kentucky, Tennessee, Arkansas, Ohio, Indiana, Illinois, Missouri, Kansas and Iowa. The division is comprised of over $17 billion in deposits and $10 billion in loans with 4,500 employees.
Mr. Jones is an honors graduate of Western Kentucky University, Bowling Green, Kentucky, where he received a degree in accounting and business administration in 1977 and then earned the distinction as a Certified Public Accountant, working for Ernst and Ernst in Louisville KY from 1977 to 1982. He is past president of Western Kentucky University Alumni.
Mr. Jones is currently serving as a member of the board of directors for the Commonwealth Fund for KET (Kentucky Educational Television) and on the Finance and Strategy Committee of Catholic Health Partners headquartered in Cincinnati, OH. He was also Chairman in 2010 for the Kentucky Chamber of Commerce, Chair of the Paducah Chamber of Commerce in 1992, and a past member of the Economic Development Partnership Board of Kentucky. Mr. Jones served as President and later a member of the board for Leadership Kentucky Alumni after graduating from the program in 1987. He has also been on the board for the Four Rivers Council of the Boy Scouts of America.
Additionally, Mr. Jones served as Chairman of the Salvation Army Capital Campaign, "Investing in Paducah's Youth – Our Future." Most recently he Co-Chaired a capital campaign for the building of a free standing Hospice facility at Lourdes Hospital in Paducah, KY. Mr. Jones has also served as the Chairman of the Paducah McCracken County Joint Sewer Agency from 2002 through 2008, the Greater Paducah Economic Development Council, and a graduate of Leadership Paducah.