Pat Moody
At-Large Trustee, Director of Market Development, Mid-West Family Broadcasting, Benton Harbor, Michigan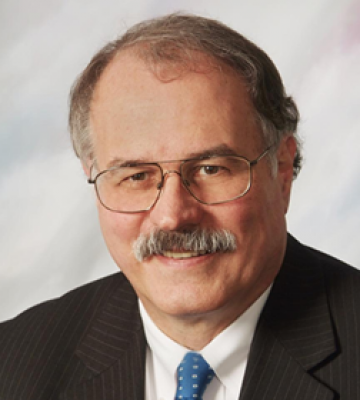 Pat Moody is a lifetime commercial broadcaster, Director of Market Development for Mid-West Family Broadcasting in Benton Harbor, Michigan and accomplished business columnist in Michigan's Great Southwest.
Born and raised in Grand Rapids, Michigan, Moody ventured into a career in radio broadcasting following a four year stint with the United States Air Force as a military broadcaster as well. A graduate of the Career Academy of Broadcasting in Milwaukee, Wisconsin, Moody later graduated from the University of Arizona's U.S. Chamber Institute for Organization Management, Western Michigan University's Michigan Economic Development Course, and the Georgia Institute of Technology's Business Retention & Expansion Course.
Moody has served as a news director, DJ, talk show host, TV producer-director-narrator-technical director-and-video switcher. For more than 38 years, he has been host of the Moody in the Morning radio broadcast on WSJM Radio in St. Joseph, Michigan. He also exhibited measurable skills as a radio advertising account executive, earning his company's top level of master sales performer, and earned the title of certified radio marketing consultant from the Radio Advertising Bureau.
Moody has extensive experience with community service having been elected to public office four times to the Board of Trustees of Lake Michigan College where he currently serves as board chair. He also sits on the Board of Directors at WNIT-Public Television in South Bend, Indiana, The Lakeland Health Foundation, The Coloma-Watervliet Area Chamber of Commerce, The Lakeshore 504 SBA Loan Review Board and The Westrain Technical Oversight Committee, as well as serving as secretary to the St. Joseph Today Board (a local merchant promotion group) and the St. Joseph Development Fund (a million-dollar revolving loan fund for small businesses in the community's central business district). He has also been extremely active with the United Way, Lions Club, Rotary and many other boards, task forces and committees.
Moody has also served at the national level, having completed two terms on the board of directors of America's Public Television Stations in Washington, D.C.
Moody writes an extensive weekly column about small business ventures and events for MailMax, a direct-mail & online newspaper serving the region. He serves as principal photographer for all Cornerstone Alliance and Chamber of Commerce publications including the weekly Cornerstone Chamber Insider Newsletter which he writes and publishes every Friday for distribution to Chamber members and interested parties.
Moody has taught Core Four Small Business classes at Western Michigan University, tracks every piece of legislation introduced in the Michigan Legislature watching for those that directly impact small business, and is an avowed small business advocate in everything that he does.
He is married to Carol Moody, Corporate Board Liaison for Whirlpool Corporation, and has two adult sons, Jason and Peter.