Molly M. Phillips (Chair)
Executive Director and General Manager, Iowa PBS, Johnston, Iowa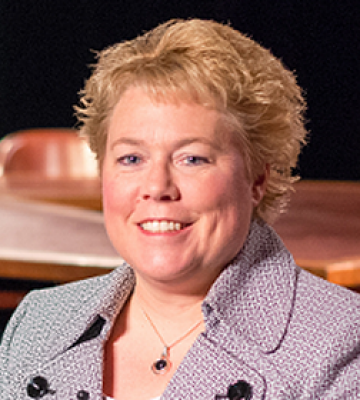 Molly Phillips is the Executive Director and General Manager for Iowa PBS, where she has been responsible for leading Iowa's only statewide broadcasting network since 2013. Phillips has served Iowa PBS since 1990, devoting her career to the advancement of public television and Iowa PBS's mission to educate, inform, enrich and inspire Iowans. She was previously the Director of Communications and Community Engagement, where for nearly 15 years she was responsible for the network's state and federal public policy advocacy. America's Public Television Stations (APTS) presented Phillips with the National Advocacy Award in 2010.
Phillips serves on the APTS Board of Trustees and the Public Broadcasting System (PBS) Board of Directors. She completed the PBS Executive Leadership program in 2015. Phillips is also an active member of the Organization of State Broadcasting Executives (OSBE). She is the past Chair of the National Educational Telecommunications Association (NETA) Board of Directors.
Phillips has made presentations at numerous public television meetings, including one at the Corporation for Public Broadcasting (CPB) Board Meeting in April 2017 to talk about many of the educational opportunities executed at Iowa PBS, and also presented at the APTS Public Media Summit.
Phillips holds a Bachelor of Arts degree in Business from Grand View University in Des Moines. She was raised in Southwest Iowa and she currently resides in Grimes with her husband Steve. They have three children together: Courtney, a graduate of University of Northern Iowa and a Special Education teacher; and twin boys Taylor (attending Iowa State University) and Trevor (attending University of Iowa).