Mimi Chapin Gregory
Lay Trustee, WGCU, Fort Myers, Florida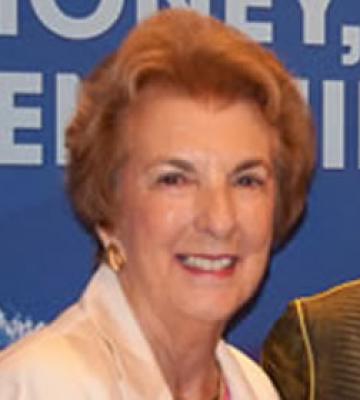 Mimi Chapin Gregory has been actively involved in international affairs for the past 30 years. Her interest in foreign affairs was fostered by her opportunities to live abroad, her European ancestry, and her pursuit of languages and Slavic studies.
As an executive recruiter for the Banking industry, she represented Warren Management Consultants in Paris. Upon returning to the U.S., she continued to pursue her interest in the French language and culture within the Alliance Française, a worldwide organization with 114 not-for-profit chapters in the United States, where she served as National President.
While living in Boston, Gregory worked with the Consul General of France and Serge Bellanger of Banque Transatlantique CIC to create a French-American Chamber of Commerce, and served as its Vice President for five years. Her contributions to the various French organizations were recognized in 1990 when she was decorated by the French Government as a "Knight of the Order of Arts and Letters."
Gregory also served on the Board of the Friends of the Massachusetts General Hospital Cancer Center, the American Heart Association, and as Vice President and Board member of the World Affairs Council of Boston, now WorldBoston.
Now a resident of Naples, Florida, Gregory is a Past President of the Naples Council on World Affairs, and remains Vice President and Program Chairman, a chapter comprising 2300 members and an affiliate of the World Affairs Councils of America. She was recently re-elected to the National Board of the World Affairs Councils of America.
Gregory has represented the Council system on "Leadership Missions" to Lebanon, Kuwait, Israel, Egypt, Taiwan, the Federal Republic of Germany, Iraq, and in March, 2012, to Afghanistan. In May of 2015, she led a group of Council travelers to the Islamic Republic of Iran.
In 2010 she was named to the Advisory Board of WGCU Public Media in Ft. Myers, Florida, an NPR and PBS affiliate, where she continues to serve.
Gregory continues her ties to France and remains President of the Alliance Française of Bonita Springs She is also a member of the Executive Committee of the Board of the France Florida Foundation for the Arts.
In October 2011, Gregory was named a "Commander in the National Order of Merit", by decree of President Nicolas Sarkozy of France.